UKIP AM Michelle Brown accused of nepotism by ex-advisor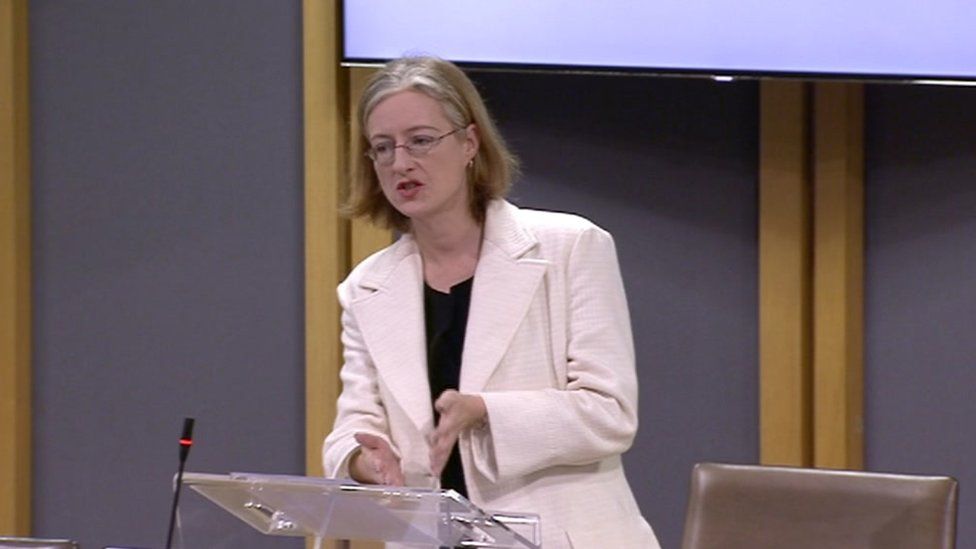 A UKIP AM indulged in "nepotism" and abused public money trying to get her brother a job working for her, her ex-senior advisor has claimed.
Nigel Williams told an employment tribunal Michelle Brown "manipulated the truth or lied" to meet her needs.
In a written statement, Mr Williams told the tribunal he was dismissed after failing to give Richard Blaxendale a job as a receptionist.
But Ms Brown's lawyer said Mr Williams was sacked over a different matter.
The tribunal, in Cardiff, is ongoing.
Mr Williams claimed that the North Wales UKIP AM attempted to play a "significant role in the selection process" of appointing a family member, contrary to assembly rules.
He said she tried to "doctor the job description" and "attempted to control who was on the interviewing panel".
Ms Brown, he said, was acting for "pecuniary advantage" and consequently had possibly been committing a criminal offence.
Mr Williams said Mr Blaxendale, was not suitable for a job as a caseworker or receptionist.
He claimed the AM's brother had no qualifications and "was not capable of doing the job".
Ms Brown "simply wanted to employ him as he was her brother and so that he could have a good income", he added.
In his statement, Mr Williams said he was on the interview panel that did not appoint Mr Blaxendale, following a six month probationary period.
The ex-advisor said his access to Ms Brown's emails was revoked the following working day.
Mr Williams said she also cut him "out of all future arrangements and would not speak with me" as a result of concern over his "performance" despite there being no previous concerns about his work.
He was later suspended and dismissed from his role.
Mr Williams said in the statement that Michelle Brown had stated that she dismissed him because it was found he had made derogatory remarks about her to a third party and had breached the assembly's code of conduct.
He said she did not know about this when she removed his email access.
Under cross-examination, Mr Williams said he had told Ms Brown in conversations several times that he believed she was committing offences under the Fraud Act, but he admitted that was not included in any of the documentation he sent her.
Michelle Brown's lawyer told Mr Williams the case against him - which had led to his dismissal for gross misconduct - was that he had communicated via email with the UKIP official David Soutter, someone who she had expressly told him not to contact on many occasions.
Mr Williams said he was in touch with Mr Soutter about party matters rather than assembly matters, and he disputed that Ms Brown had made it clear to him that he should have any contact with him.
The tribunal will continue on Friday.