Owen Smith backs Vaughan Gething for first minister job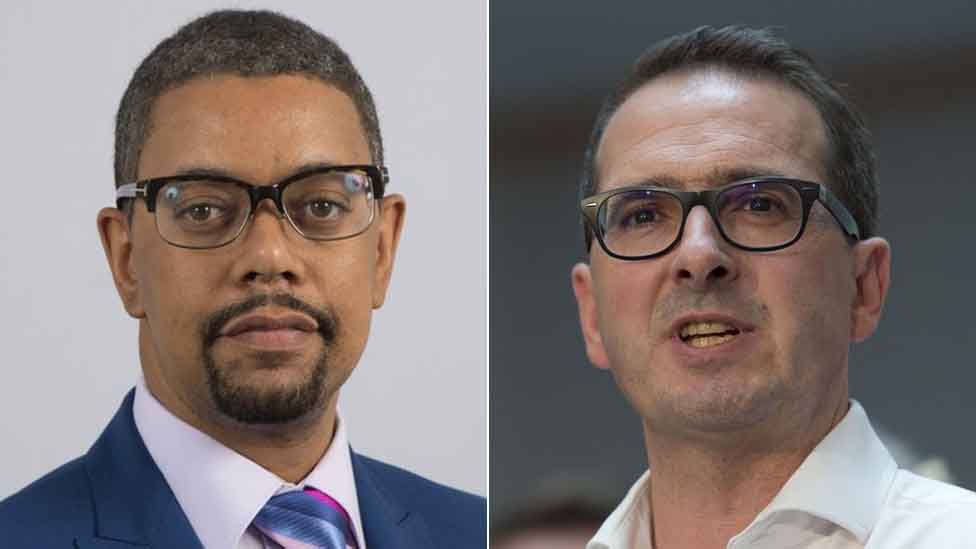 Vaughan Gething has been backed to be Wales' next first minister by former UK Labour leadership contender Owen Smith.
The former shadow cabinet minister, who lost out to Jeremy Corbyn in a 2016 contest, welcomes Mr Gething's support for another referendum on Brexit.
It comes as the party prepares to decide on exactly how it will elect its new leader in Wales.
Mr Gething supports the so-called People's Vote campaign while Mr Drakeford, Wales' finance secretary, said he wanted to keep all "possibilities on the table" and that it was too soon to back another referendum.
Mr Gething, the Cardiff South and Penarth AM, and Mr Drakeford are the only contenders with enough backing from Labour AMs to make it onto the Welsh leadership ballot paper to replace Mr Jones, when he steps down in December.
Eluned Morgan, Huw Irranca-Davies and Alun Davies have also said they want to stand in the election - and they all back a vote on Brexit's final terms.
The Pontypridd MP's backing for Mr Gething came on the day Labour's Welsh Executive Committee (WEC) agreed to put two methods for electing its new Welsh leader to the party.
Analysis from BBC Wales Political Correspondent Arwyn Jones:
This could cause a dilemma for many Labour voters in Wales, especially those who joined the party because of their support for Jeremy Corbyn.
Mark Drakeford is widely seen as the candidate whose politics most closely mirrors that of Mr Corbyn.
But there are growing demands from within the party for another referendum on the Brexit deal, the so-called People's Vote.
Vaughan Gething has been very clear in his backing for another referendum while Mark Drakeford, like Mr Corbyn, says it is too soon for a second vote.
So, to over-simplify, it could mean a choice between a more left-leaning candidate or the candidate who will campaign for a second referendum.
Of course, the contest to lead Labour in Wales will be about many other subjects.
But the views of the two main candidates on the biggest political issue of our time will undoubtedly feature prominently.
A special conference next week will be asked to agree on a one-member-one-vote (Omov) ballot, or a reformed version of the current electoral college system the party uses in Wales.
At a UK level, the party has moved to Omov and Jeremy Corbyn was the first Labour Party leader to be elected under this system.
If the reformed version of the current electoral college gets the go-ahead, general members' votes would make up 50% of the electoral college and affiliated members would make up the other 50%.
Currently in Wales, a third of the leadership ballot is made up of party members, a third by union members and a third from elected politicians.
The final decision will be taken at next Saturday's special conference.
Related Internet Links
The BBC is not responsible for the content of external sites.