Neath Port Talbot council warns of teacher job losses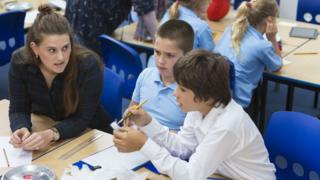 A cash-strapped council might have to lay off staff, including teachers, its chief executive has warned.
Neath Port Talbot had "all but exhausted" the scope for voluntary redundancies and early retirement, members have been told.
In a report, chief executive Steven Phillips also warned about the prospect of further cuts to services.
A shortfall of more than a quarter of the council's budget is forecast by 2022 if action is not taken.
Mr Phillips said legislation in the Welsh Assembly was piling more responsibility onto councils - including in social care and planning - but without extra funding.
A "lack of realism" meant some people were lobbying councils to invest more when money was already tight, he said.
Pay was the single biggest source of pressure, the chief executive said. More than £3m extra will be needed next year, rising to £4m if the additional cost of teachers' pensions and the living wage are included.
He also repeated a complaint often made by council leaders; that NHS budgets are regularly "topped up" by ministers, but council budgets are not.
Mr Phillips said that as agreement with the workforce had ended "it is very difficult to see how compulsory redundancies can now be avoided".
Neath Port Talbot could not absorb the extra cost of a 3.5% increase in teachers' pay, announced by the UK government in July, Mr Phillips warned, adding: "Put simply, if this increase is not fully funded by the Welsh Government, it will inevitably mean compulsory redundancies in our schools."
Warning of redundancies, he said that two or three years ago around 200 staff a year were leaving voluntarily. Last year that fell to 11.
He wrote: "No-one disputes the right of public service employees to decent pay and conditions (particularly after years of pay restraint and deteriorating conditions in real terms).
"However, there's also no escaping the basic - and inverse - relationship between pay and jobs. If the former increases, the latter reduces."
Mr Phillips added that services would be scaled back or closed "where footfall remains low in some cases" and officials "do not think it inconceivable that some primary schools may have to close on financial viability grounds".
'Worst excesses'
The Welsh Local Government Association (WLGA) said councils' funding from Welsh ministers had fallen by 22% since 2009-10, after adjusting for inflation, and the workforce had shrunk by around 15% over the same period.
A WLGA spokesperson said: "Further cuts proposed for this year's local government settlement mean that councils will have little recourse but to continue to make difficult decisions and prioritise services in the future.
"We look forward to working with Welsh Government on the forthcoming draft budget to offset the worst excesses of austerity being experienced by our colleagues in England."
A Welsh Government spokesperson said Wales' Local Government Secretary Alun Davies had "impressed upon local authorities the need to take account of all the resources available to them", adding that ministers would "continue to engage in a dialogue with local government to maintain those vital services so many people rely on" when deciding the 2019-20 budget.