Student finance change defended as foreign applications fall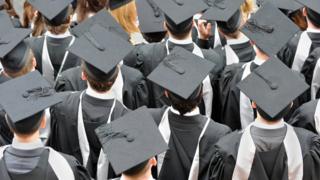 It was "inevitable" that changing student finance policies would affect Welsh universities' ability to recruit EU students, a Welsh minister has said.
Welsh universities saw the biggest drop in the UK in the numbers of EU applicants between 2017 and 2018.
Official figures also show Welsh universities had the biggest fall in applications from outside the EU.
Education Secretary Kirsty Williams said scrapping tuition fee grants moved "towards a sustainable way of funding".
There was a 7% drop in non-EU applicants and a decrease of 10% in applicants from the EU.
Higher education institutions in England (+7%), Scotland (+9%) and Northern Ireland (+1%) all saw an increase in the number of applicants from countries outside of the EU.
At the same time, there was also a 2% increase in EU applicants to universities in England, a 3% increase to Northern Ireland, and a 1% drop to Scotland.
Asked about the drop in EU student applicants, during an evidence session with the Welsh Assembly's Education Committee on Thursday, Ms Williams said there "wouldn't be a true picture" of recruitment figures for the 2018-19 academic year until spring 2019.
But she acknowledged Welsh ministers' decision to replace tuition fee grants of £5,100 for Welsh and EU students with living-cost grants may have had an impact on EU recruitment figures.
That new funding policy comes into place for students starting university in September 2018.
Ms Williams said: "It was inevitable, given the change in government policy with regards to student support, which had previously allowed European students to benefit from a tuition fee grant, given the fact that option is no longer available to them, that has had an impact on EU recruitment.
"The fact that the tuition fee grant arrangements may have had an impact on European Union students at this stage doesn't preclude the fact that Wales up until now has been successful in recruiting international students."
The Welsh Government is part of the Global Wales initiative, which aims to boost student recruitment and research collaboration and to promote Welsh universities internationally.
As part of a £50m fund to help Welsh businesses and institutions prepare for Brexit, Ms Williams has given £3.5m worth of funding over three years to the initiative "to deliver the Study in Wales brand globally, develop existing activity in the US and Vietnam, and to expand to other markets".
According to the official figures, the overall number of applicants to Welsh universities in 2018 dropped by 7% from the previous year - from 72,200 (2017) to 67,420 (2018).
It was a bigger percentage decrease than seen in England (-2%), Northern Ireland (-3%), and the UK as a whole (-2%).
Overall applicant numbers in Scotland roughly stood still.