Who is the new leader of Plaid Cymru Adam Price?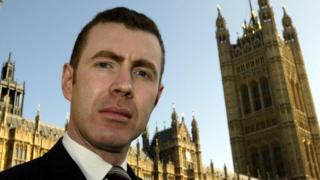 "Once in a generation a politician emerges who stands alone in ability".
That was how an election campaign leaflet described Adam Price in 2016, calling the former MP the "Mab Darogan".
The phrase is translated as son of prophecy - a description normally applied to Owain Glyndwr.
The leaflet was denounced as "sycophantic" by the Tories, but Mr Price has been tipped as a future Plaid Cymru leader for years.
Known for both his oratory skills and his enthusiasm for novel ideas, his aim is to replace Labour as the natural party of government while putting independence front and centre of Plaid Cymru's political platform.
The openly-gay AM, who recently became a father, was born in Carmarthenshire to a miner's family in 1968.
During the leadership campaign he told supporters of when, at the age of eight, he met the former Labour Prime Minister James Callaghan in Ammanford.
"So, you want my job?" he was asked. "No", came the reply. "I want to be prime minister of Wales."
Mr Price said his life's purpose of knocking Labour prime ministers off their perches was set.
He told an S4C documentary in 2014 that his experience of the 1984-85 Miner's Strike helped define his political views and gave him confidence to later come out.
A student of Amman Valley Comprehensive School in Carmarthenshire, he studied at Cardiff University before becoming managing director of UK policy and economics consultancy Newidiem.
He entered politics in 2001, winning the parliamentary seat of Carmarthen East and Dinefwr from Labour for Plaid Cymru.
In the House of Commons his anti-war campaigning, and his attempt to impeach former Prime Minister Tony Blair in 2004, generated UK headlines.
His accusation that Mr Blair had "misled" parliament, and refusal to withdraw the comment, saw him chucked out of a Commons debate in 2005.
Mr Price quit at the 2010 election and, after he was awarded the prestigious Fulbright Scholarship, went to Harvard University to study a Masters in Public Administration.
During his break from politics he helped form, with £175,000 of Welsh Government investment, high-tech financial software firm Ideoba in Bridgend.
But the company collapsed after being unable to secure further Welsh Government help.
Mr Price re-entered politics in 2016, joining the assembly as the AM as the same constituency he represented as an MP.
He wrote Plaid's manifesto for the assembly elections that year, and has been a key player in the party machine, co-ordinating the party's general election campaign in 2017.
In the Senedd he has been a loud critic of the Welsh Government's economic policy.
'We ended up saying nothing'
During the campaign Mr Price said Plaid could change its name, and proposed slashing income tax by 9p.
He was critical of the party's reluctance to discuss independence, saying it was the reason he joined the party.
"When we have tried to avoid saying anything that might frighten the voters we ended up saying nothing at all," he said.
"I have always been consistent that we should make it our express purpose to achieve an independent Wales, and sooner not later."