Politicians' staff face social media abuse and threats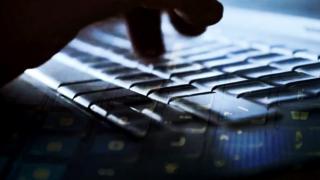 Staff working for Welsh MPs and an AM have said they get abuse and threats on social media just for doing their job.
Two aides have told the BBC the abuse online can also often threaten to spill over into the real world.
Alun Roberts works for two Plaid Cymru MPs and said "you get called every name under the sun, told you're useless, that you're not doing your job".
Facebook and Twitter said they were working hard to tackle abuse on their platforms.
Mr Roberts looks after social media for Plaid Cymru MPs Hywel Williams and Liz Saville Roberts.
He told the Sunday Politics Wales programme he was threatened by a constituent on social media when he "stepped in to defend the MP" on their Facebook page and to "take the heat out of the conversation".
He said: "The next minute I get a message on Facebook, personal message in my inbox, saying that the individual would come down and sort me out, to the constituency office.
"At the time I didn't take that as a direct threat, but when you think about it, it was."
Llyr Powell works for the independent AM Mandy Jones and previously her predecessor Nathan Gill.
"I think the worse can always be that if you're in an office place the suggestion is 'I know where your office is'. The language where they're coming down [there] physically.
"At the office, we've had scum written on the window, we've had [abuse when] passing in the streets. The Facebook page, some people like to send direct messages."
Both staff members said following the murder of Jo Cox MP two years ago, there has been an increased awareness of harassment online, and protections and support for staff had been stepped up by both parliamentary and assembly authorities.
These include panic rooms in the constituency offices and having someone to talk to if a staff member experiences threatening behaviour or online abuse.
A Facebook spokesman said: "Hate speech is not acceptable on Facebook and we work hard to keep it off our platform.
"We work closely with politicians to explain how they can use our safety tools including hiding or deleting comments, and they can tell us if something has been posted that they think should be removed."
A Twitter spokesman said ensuring health conversations are happening is "our number one priority" and that tackling abuse is something "we are constantly working on", and added: "Between 2017 and 2018, we introduced over 30 policy, process and operational changes to help make people's experiences on the platform safer."