Under-investigation Flintshire leader Aaron Shotton told to stand aside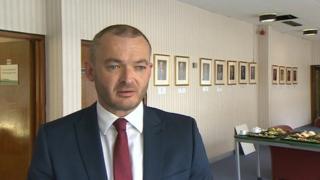 Flintshire council leader Aaron Shotton has been asked to stand aside while a watchdog investigates a complaint.
Four opposition councillors have expressed concern that allegations of an extra-marital affair between Mr Shotton and a council employee could damage the council's reputation.
It has been widely reported the woman involved in the affair lost her job.
The leader said he awaits the opportunity to "fully respond" to the allegations.
The confidential letter was sent by the leaders of four opposition groups on the council - the Conservatives, the Liberal Democrats, the Independent Alliance and the New Independents, via the council's monitoring officer.
It called for Aaron Shotton to consider voluntarily standing aside while his conduct was under investigation by the Public Services Ombudsman, in the interests of upholding the reputation of the county council and the leader's office.
The signatories said such a move would not indicate an admission of guilt and that they were not judging Mr Shotton, which was a matter for the ombudsman.
Reports last week that the woman allegedly involved in the affair has lost her job at the council prompted the signatories to ask for a meeting with the chief executive, Colin Everett, ahead of a scheduled meeting of the full council on Tuesday.
They say they were told no meeting was possible until after the full council meeting.
Mike Peers, leader of the Independent Alliance, said he is concerned the matter is "bringing ridicule to the county council" and that opposition members are being kept in the dark about what is going on.
Chris Dolphin, leader of the Lib Dems, said: "We're in the dark, which is disappointing... I feel we could have been given more information before reading about all this online."
Chris Carver, leader of the Conservatives, said: "He should do the honourable thing and stand down until the investigation is completed."
He also expressed concern that the reported sacking of the female employee allegedly involved in the affair looks like "double standards", since Mr Shotton remains in post, albeit under investigation.
Mr Shotton said: "I have recently met with the four group leaders, following their letter requesting that I consider temporarily stepping down, whilst there is a Public Service Ombudsman for Wales (PSOW) investigation into allegations made against me.
"The group leaders accepted my explanation that with the support of my group, and with the benefit of legal advice, I would be continuing in the role and that I await the opportunity to fully respond to the allegations made against me."
A Flintshire council official said: "We are not able to comment on the detail of any internal employment case.
"The office of the Public Services Ombudsman is independent of the council, and is responsible for any cases of alleged misconduct by councillors which it might be investigating. We cannot comment on such cases."