Budget 2018: M4 spending not Chancellor's decision says Drakeford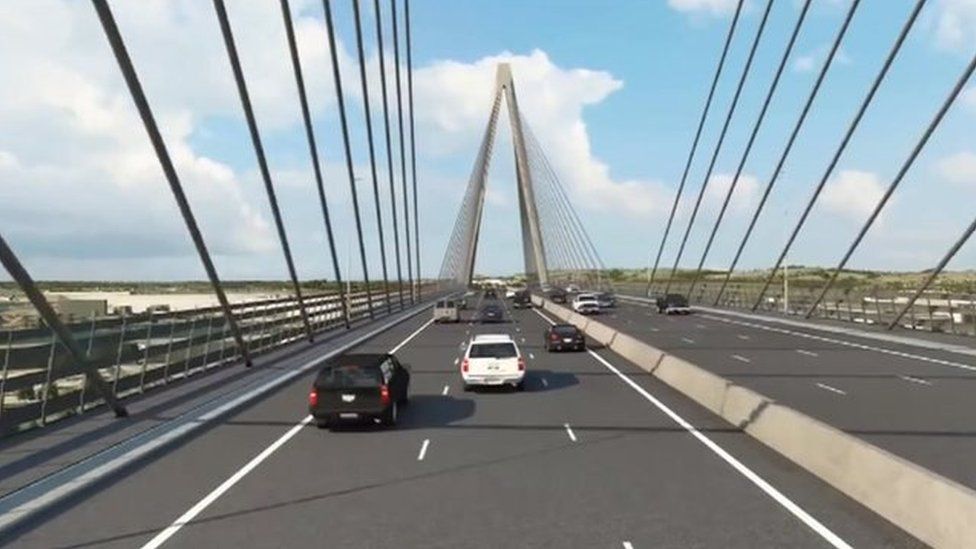 The Chancellor Philip Hammond cannot tell AMs to spend extra cash on the M4, finance secretary Mark Drakeford has said.
In Monday's budget UK ministers said their Welsh counterparts may be given an extra £300m in borrowing if it is spent on the planned M4 Relief Road.
Mr Drakeford said it was for AMs to decide how to spend any new money.
But Welsh Secretary Alun Cairns said the Welsh Government had specifically asked for the new cash for the M4.
Sources insisted Welsh ministers did not request extra borrowing exclusively for the road.
On Monday the UK government budget announced that it would support the "delivery of a new M4 relief road through a review of the Welsh Government's capital borrowing powers at the Spending Review, to consider whether the borrowing cap should be increased by up to £300m to support this vital project".
It came with an announcement of an extra £550m for devolved services over three years - although Mr Drakeford said much of the money was not new.
The Welsh Government can already borrow £1bn, but opponents of the relief road are concerned that committing to the project will tie-up most of that cash for years.
Mr Drakeford told BBC Radio's Good Morning Wales programme that he was told months ago that the borrowing powers would be reviewed.
"It will be for the national assembly for Wales to decide on how borrowing powers are deployed, not for the Chancellor in England, not for the Secretary for State for Wales," he said.
"If our borrowing ability goes up, which it should go up, it should be for the national assembly to make those decisions."
But Mr Cairns said: "Last April, the Welsh Government asked the Treasury for additional funding for the M4 road, for additional borrowing capacity."
"I've been able to deliver that extra borrowing power so there is no financial reason why that road [can not be] built.
"I'd also point out that it is a Labour manifesto commitment," adding: "This is not about us dictating policy."
"If they choose not to build it, then that is their political choice and they need to explain that to the people around Newport as well as to the businesses across the whole of the South Wales corridor because they will suffer as a result."
Sources say Mark Drakeford wrote to the Treasury in April saying he would seek extra borrowing capacity for "our investment priorities, including the M4".
The M4 was the only example cited in the letter, which did not mention other priorities.
A Welsh Government spokesman said: "We requested the UK Government reviews the Welsh Government's borrowing cap, in line with the fiscal framework agreement, for it to be raised at the next spending review.
"This request was made to help us fund our ambitious capital infrastructure programme, which potentially includes an M4 relief road, subject to the outcome of the public inquiry."
"Despite declaring austerity to be over, the Chancellor could only find a paltry £2.6m for infrastructure next year in his Budget yesterday," he added.
The Welsh Government recently received the findings of a public inquiry into whether to build the M4 Relief Road, which estimated to cost more than £1.4bn.
A decision is yet to be taken on whether to go ahead, with a vote set to take place in the assembly in December.
Ministers in Cardiff have supported the relief road in the past but Mr Drakeford, who is a candidate in the Welsh Labour leadership race, is thought to be a sceptic.
Plaid Cymru treasury spokesman Jonathan Edwards said: "It would completely undermine devolution if those borrowing powers are only constrained by what the British government wants the Welsh government to spend those borrowing powers on."
Meanwhile the finance secretary also rejected the Chancellor Philip Hammond's claims that 'austerity' - the years-long squeeze on public spending - was coming to an end.
"There is no sign of it in these figures," he said, adding that the increase in cash for the Welsh Government was "derisory"
Well over half - £365m of the £550m announced on Monday - was announced back in July, Mr Drakeford said.
He said the £365m had already been planned into the Welsh Government budget, and claimed UK ministers had taken decisions that meant £169m of it was allocated on pay and pension contributions, while £32m had been taken away by the chancellor "overnight".
"In terms of genuinely new money there is we believe about £50m in revenue in current financial year. We have got to spend it before the end of March," he said, adding there was only an extra £2.6m next year for infrastructure spending.
But Mr Cairns said the budget saw a "significant uplift" for the Welsh Government. The Welsh Secretary said the Welsh Government had had "a 4.1% real term increase" in funding since 2015.
"If anyone had had a 4.1% - they'd see that not as a cutback or austerity but an uplift," he said.
"Much of this £554m is for this year and next year, and it's a significant uplift which the Welsh Government didn't have before", he added.
The Welsh Government plans to spend around £18bn in 2019-20.