Welsh Labour: Drakeford's tone on Brexit awful says rival Gething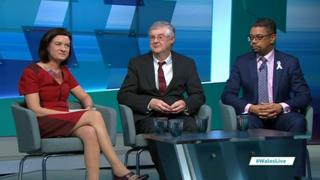 Welsh Labour leadership candidate Mark Drakeford's tone on Brexit is awful, rival Vaughan Gething has said.
The health secretary said Mr Drakeford was "wrong" to talk about working to prepare for Brexit.
In a heated exchange, Mr Drakeford said that was nonsense and told Mr Gething he was doing the same kind of work in his own department.
The pair clashed in a BBC Wales Live Labour leadership hustings broadcast on Wednesday night.
Eluned Morgan, Mr Drakeford and Mr Gething are all competing to be the next first minister in the contest.
Mr Drakeford, who is the Welsh Government's finance secretary, told the programme that the next first minister "has to do the serious business of preparing for whatever happens under Brexit".
"Now I'm clear that Wales' position would be better off inside the European Union, but I work every day to make sure that if we do leave, we leave on terms that protect Welsh jobs and the Welsh economy," he said.
But Mr Gething responded by saying the party should not "enable" a "Tory Brexit".
"The tone is awful," he said, criticising Mr Drakeford. "It's wrong when you talk about getting the work done if we leave, that's the only thing we hear."
"We actually need some leadership on our future," he added.
"Nonsense", said Mr Drakeford.
Interjecting, Ms Morgan said: "I wish the boys would stop this. What we've really got to focus on is what is best for the people of Wales."
Mr Gething, who said he wanted to "stop Brexit", said Labour "must fight" for a so-called People's Vote on the final deal.
Mr Drakeford reiterated his call for a general election if the prime minister cannot get a Brexit deal through Parliament but, failing that, he said "we should go back to the people" through a further referendum.
The finance secretary said leaving the EU will leave Wales "permanently poorer", adding: "You have to both find a way of negotiating a different outcome if we can, but prepare for what will happen if we do leave the European Union".
A new poll was the favoured option of Ms Morgan.
"I would want the people of Wales to determine whether they want Brexit or not," she said.
"I would support a people's vote but I would make it clear that it's my position to lead the campaign for us to stay and remain in the European Union. That's the best option for Wales."