Pembrokeshire council 'penalised' for low council tax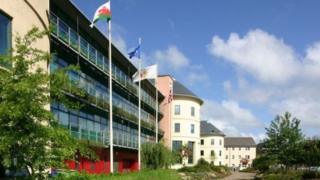 Pembrokeshire is financially penalised for its low council tax while NHS funding is unfairly protected, its local council leader has complained.
David Simpson has written to the Welsh Government calling for a review of the local government funding formula.
He said Pembrokeshire would have gained £10.9m this year if the process used had not assumed its Band D council tax was £177 higher than it actually was.
Ministers said they "worked hard" to offer councils the best deal possible.
Mr Simpson's letter, to Welsh Labour Local Government Secretary Alun Davies, lists a series of complaints about the provisional funding announced for his council announced last month.
The councillor, who is not affiliated to a political party, writes: "Pembrokeshire continues to be penalised for having the lowest Band D council tax in Wales.
"For 2018-19 Pembrokeshire had a Band D council tax of £993.54, despite a 12.5% increase, but the 'standard tax element' for councils used in the funding formula was £1,170.48 [£177 higher] and the Welsh Government assume that council tax is raised at that level.
"If the funding formula was amended to actual council tax, Pembrokeshire would have gained £10.9m for 2018-19.
"Any additional funding generated by a change in the funding formula would enable Pembrokeshire to have additional resources to invest in local services, which have suffered for many years due to national and local political; budget strategies."
Pembrokeshire's leader, who has other unaffiliated, Labour, Plaid Cymru and Liberal Democrat councillors in his cabinet, goes on to say in the letter the council would need to increase council tax by 28% next April to raise the amount of money the Welsh Government estimates it needs to provide its services.
Mr Simpson argues: "The ongoing protection of health funding at the expense of local government is not fair, equitable or sustainable."
He also warns he "cannot see how we can afford to provide any additional opportunities for people to use the Welsh language" due to the reduction in funding, saying "if you were able to provide additional funding for this purpose, this would be welcomed".
A Welsh Government spokesperson said: "We have worked hard to offer local government the best settlement possible in this ninth year of austerity and have made further allocations to mitigate most of the reduction councils had been expecting.
"Earlier this week we announced an extra £141.5m for local government, including £1.2m to raise the funding floor so no local authority faces a reduction of more than 0.5%."
The statement, by Finance Secretary Mark Drakeford on Tuesday, included an additional £24m to be shared by Wales' 22 local councils for day-to-day spending next year, using extra money for Wales following the UK government budget.