Brexit deal: Welsh Secretary Cairns endorses deal despite reservations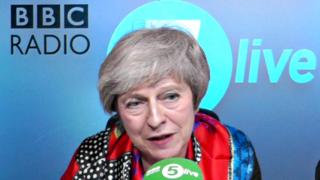 The Secretary of State for Wales has admitted he had reservations with the UK government's Brexit deal.
Alun Cairns said compromise had been necessary to ensure an "awfully good package".
The MP told BBC Wales he did not like the so-called backstop option - an insurance policy to ensure there will be no hard border in Ireland if there is no EU trade deal.
Mr Cairns now expects MPs to back the deal when a Commons vote takes place.
Prime Minister Theresa May told listeners on BBC Radio 5 Live that the UK would not get a "better deal" if MPs rejected the draft withdrawal agreement.
"I don't like every element of this document because we've compromised, we have to, that's the nature of the discussions that have taken place over the past two years," Mr Cairns said in an interview with BBC Wales.
"But I look at the context... this is an awfully good package that will benefit the Welsh economy and the UK economy.
"I would prefer it if the backstop wasn't there... but we wouldn't have had the trade package if the backstop wasn't there.
"So I'm prepared to accept a trade package with the EU and accept the cost of the backstop."
Despite widespread criticism of the Brexit deal from all parties, Mr Cairns said he expected a majority of MPs to vote in favour of the withdrawal agreement in the Commons.
He believes Parliament will agree that the deal is better than the alternative options of leaving the EU without a deal, or remaining in the EU.
"When they see what this deal does then I think people will take this," he said.
Asked if he was simply making an argument for the least worst option, Mr Cairns replied: "No, this is a deal that would command the majority of support from the public."
Mr Cairns praised the prime minister's "resilience and determination to get a deal that works for every part of the country as well as bringing the country together".
"The reality is if the prime minister had delivered an outcome that served the hardline brexiteers or that served those remainers that want to ignore the outcome of the referendum, the country wouldn't have come together," he added.
"I think everyone has got to admire the deal that's come forward, what it delivers, that there's a significant amount in this for everyone and this is why I think the country will get behind the prime minister."