UKIP AM calls for new leadership election over Tommy Robinson role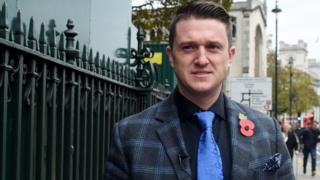 UKIP members should vote on whether Gerard Batten should remain their leader after he made Tommy Robinson an adviser, a party AM has said.
Nigel Farage has said UKIP should "get rid" of Mr Batten for appointing the ex-English Defence League leader.
AM Michelle Brown said it may be time "to have Batten's leadership democratically checked" by the members.
She previously said letting Mr Robinson join UKIP would give substance to claims it was moving to the far-right.
UKIP was asked for comment.
Currently, UKIP bans former British National Party and EDL members from joining the party.
On Sunday, the party's national executive committee (NEC) deferred a decision on allowing members to vote on whether Mr Robinson should be exempted from the ban.
Mr Robinson, whose real name is Stephen Yaxley-Lennon, will advise on "rape gangs and prison reform".
Mr Batten said he "looked forward to working with him" on subjects about which "he has great knowledge".
Mr Farage told BBC Radio 4's Today programme hiring Mr Robinson "goes against all the things I did as [UKIP] leader", accusing Mr Batten of "dragging us in a shameful direction".
"I will be writing to the National Executive Committee of the party today and urging that we have a vote of no confidence in Gerard Batten as leader, that we get rid of him." he said.
In May, Mr Robinson, 35, was jailed for 13 months for contempt of court.
His conviction was later quashed over procedural concerns and the case has now been referred to the attorney general.
Ms Brown told BBC Wales on Friday: "Whilst Tommy Robinson's inside knowledge of prison conditions is undeniable, I would prefer to take advice on rape gangs from the victims, (like the person that spoke at UKIP's national conference) than a man such as Robinson.
"I am concerned that giving Tommy Robinson a post that could greatly influence the policy and discourse of the party is going against the wishes of the NEC and I agree with Nigel Farage, that it may well be time to have Batten's leadership democratically checked by the membership.
"With all the chaos of the EU withdrawal agreement going on, this is a time for the party to be united in common cause for a proper Brexit, not being distracted and divided by a public fight over the membership and involvement of one individual."
Mr Batten is the fourth person to lead UKIP since Mr Farage quit in the wake of the 2016 EU referendum.