Abolish Natural Resources Wales, say Welsh Conservatives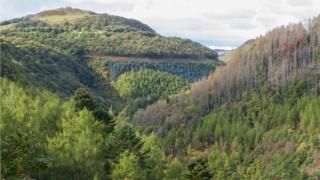 Environmental body Natural Resources Wales (NRW) is "largely incompetent" and should be split up, the Welsh Conservatives have said.
NRW was set up from a merger of three quangos in 2013 but has faced criticism over repeatedly selling timber without going to the open market.
Tory AM Andrew RT Davies says his party would split NRW into two.
NRW chief executive Clare Pillman said staff have demonstrated their commitment "to do the right thing".
And the Welsh Government said changes in personnel would allow the body to continue to "build its important role".
"It's been clear for some time that NRW is no longer fit for purpose and that the Welsh public has lost faith in the organisation," said Mr Davies, who is the Welsh Conservative environmental and rural affairs spokesman.
"As part of our exciting vision for Wales post-Brexit, we'd scrap this bloated and largely incompetent quango and ensure the regulatory and commercial duties were carried out separately and effectively.
"Brexit provides us with the chance to do things differently and Welsh Conservatives will use this freedom to reset the environmental protection, regulation and maintenance of natural resources throughout Wales."
'Heroic job'
But Plaid Cymru agriculture spokesman and North Wales AM Llyr Gruffydd said Mr Davies was wrong to say NRW was largely incompetent, but said it did not have the resources to do its job.
"I don't think abolishing NRW at the moment would help. With the instability and insecurity that we have at the moment coming from Brexit... I think the last thing we need is organisational change at this particular time.
"They have seen a 35% real terms cut if you compare their budget when they were established to now. In the means time they have had additional duties placed upon them," he said. "It is unsustainable."
"I think many of the people who are working for NRW are doing a heroic job under very very difficult circumstances," he added.
What is NRW?
NRW was formed by the Welsh Government from the Countryside Council for Wales, which was responsible for conservation, the Environment Agency Wales, which looked after flooding, pollution and regulating power plants, and the Forestry Commission, which managed tree planting and selling timber.
In 2017, auditors criticised the organisation's accounts, raising concerns over timber sales to a saw mill firm that had not been tendered on the open market.
Despite the concerns, months later NRW repeated the failure, leading to the resignation of the organisation's chairwoman Diane McCrea.
The scandal lost the taxpayer at least £1m.
Ms Pillman, who took over after Emyr Roberts retired last year, told the assembly Public Accounts Committee the sales were the result of incompetence, not corruption.
But the same committee said incompetence could not explain what happened, and that the failures were "inexplicable".
The Welsh Government said the merger could save taxpayers £158m over 10 years.
A staff survey revealed in 2016 that only 10% of employees in the organisation felt it was well managed.
The Tories' alternative would be to set up one body to deal with NRW's "regulatory duties" and another to deal with its commercial aspects - such as selling timber.
A Welsh Government spokesman said: "We are aware of the recent issues at NRW and a new interim chair [Sir David Henshaw] and board members have been appointed to oversee the improvements needed at the organisation.
"These changes will allow NRW to continue to build its important role in protecting and enhancing the environment in Wales."
Ms Pillman added: "While we acknowledge that there are things which need to improve, our staff have demonstrated their commitment and expertise to do the right thing for Wales, its environment and its communities.
"In the last five years, we have brought the work and responsibilities of three organisations into one and are on course to deliver £171m of savings to Wales ahead of our 10-year target of £158m."