PM's EU migrant claims offensive, says Labour's Drakeford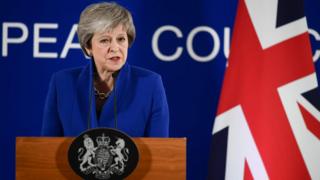 Theresa May's comments about EU migrants in a speech to the CBI last week were offensive, Wales' Brexit minister has said.
The prime minister said EU migrants would not be able to "jump the queue" under the EU withdrawal agreement.
Mark Drakeford said Ms May's words had already hit the ability of Wales to be able to attract workers.
The Conservative leader told MPs on Monday that she had used the wrong language.
Welsh ministers had raised concerns about the comments in a meeting with the UK government, he said.
Mr Drakeford told AMs that the Brexit deal signed off in Brussels on Sunday fell short - and was "unlikely" to get Welsh Government support.
A full Welsh response to the documents will be published before a debate in the Senedd.
No date for the debate has been set, but ministers want it to happen before the meaningful vote in the House of Commons where MPs will be asked to accept the deal.
Last week, Mrs May told the CBI that: "It will no longer be the case that EU nationals, regardless of the skills or experience they have to offer, can jump the queue ahead of engineers from Sydney or software developers from Delhi."
Giving evidence to an assembly committee, Mr Drakeford said her comments were "deeply offensive" to EU migrants who "already feel... that their future here is under a shadow".
He said: "Our ability to hang on to those people and to persuade them that they are welcome to be here in Wales, as we believe, was badly affected by what the prime minister said.
"There was quite an extended and straight-talking discussion between Wales and Scotland on that matter at the JMC (Joint Ministerial Committee)."
He said the withdrawal agreement and political declaration about the future relationship with Europe were a "vain attempt" to heal division in the Tory party.
However, the prime minister had "retreated" from her earlier red lines and had ended up with a deal that was closer to what the Welsh Government wanted, he added.
In the House of Commons on Monday Mrs May said she "should not have used that language in that speech".
"The point I was making was a simple one. Right from the very beginning I said that citizens' rights was a key issue that I wanted to see addressed in the Withdrawal Agreement," she said.
Pro-Remain Labour MP Stephen Kinnock claimed on Monday that the prime minister was "scaremongering" in order to get the House of Commons to back her deal.
Mr Kinnock said it was "not going to happen" and believes her claim of a no deal was a "bluff".
The prime minister's claim that this is the only deal on the table is an "empty threat", he added.
It came as Mrs May said that rejecting the Brexit deal will be risky and lead to "division and uncertainty".
The Sun suggested on Monday that cabinet ministers Michael Gove and Amber Rudd were prepared to join Labour to push for membership of the European Free Trade Association (EFTA) - also known as the Norway model.
Asked whether he had spoken to either of them, Mr Kinnock said: "I've had a good conversation with Amber Rudd, yes, absolutely, several very good conversations with her.
"Of course she was a backbencher up until very recently. She has now gone into the cabinet.
"Let's get a coalition of MPs together to have a deal which delivers on the referendum and which is the only deal that has a chance of reuniting our very divided country."