Theresa May defends under-fire Brexit deal on Welsh visit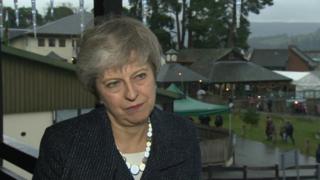 Britain, not Brussels, will negotiate its own trade deals with other countries after leaving the EU, the prime minister has said.
Theresa May was responding to criticism of the Brexit deal by Donald Trump and ex-cabinet minister Sir Michael Fallon.
Speaking at the Winter Fair agricultural show in Powys, she said her withdrawal deal protected the security and jobs of people in the UK.
The deal has been approved at EU level, but it needs to be ratified by MPs.
With a vote due next month, the prime minister urged MPs to think about the "national interest".
Theresa May visited Llanelwedd on Tuesday as she continues efforts to win support for the Brexit withdrawal agreement.
Mrs May said the proposed deal will deliver for Welsh farmers - No 10 said the deal would protect food exports such as Welsh lamb and Caerphilly cheese.
Former defence secretary Sir Michael said Theresa May's Brexit deal is "doomed" and must be renegotiated.
"My fear is that this deal gives us the worst of all worlds," he told BBC Radio 4's Today programme.
"No guarantee of smooth trade in the future and no ability to reduce the tariffs that we need to conclude trade deals with the rest of the world.
US President Donald Trump has suggested the withdrawal agreement "sounds like a great deal for the EU" and might hamper a future trade deal with the UK.
'More division if deal voted down'
The political deceleration on Brexit "clearly identifies" that the UK will have an "independent trade policy" outside the EU, Mrs May said.
Talks are already underway with Washington about what sort of agreement the UK could have with the US in future.
"We will have that ability outside the European Union to make those decisions on trade deals for ourselves," she said.
"It will no longer be a decision taken by Brussels. We will have control of that and we will strike trade deals that will enhance our prosperity, enhance our economy and bring jobs to the UK."
Asked repeatedly whether she had a Plan B should parliament reject the deal, she said: "If the deal is voted down in the House of Commons it will lead to more division and more uncertainty."
Before the visit the prime minister said: "This deal delivers for farmers in Wales, who deserve better than the Common Agricultural Policy (CAP).
"After we leave the CAP, we will be free to design a new policy that works for agricultural producers in all four nations and we are taking that work forward."
CAP is the EU-wide policy on agriculture that determines what support is available for farmers.
What will replace it in Wales will be set by the Welsh Government, which is consulting on proposals to replace the current subsidies with grants.
But former Conservative minister and Aberconwy MP Guto Bebb said Mrs May had agreed a "very bad deal for Welsh agriculture".
"The idea of frictionless trade seems to have disappeared from the narrative and I am very concerned about that," he said.
"The agriculture sector in Wales will still need to have access to those European markets. I do not think there's any certainty that those markets will be open to Welsh agriculture products."
One of Plaid Cymru's deputy leaders, Rhun ap Iorwerth said: "We don't think a day trip to Wales cuts it, from Plaid Cymru's point of view.
"We've had too many examples, throughout the whole process, of Wales being sidelined.
"She pays us a visit and expects to sell a deal that she has paid too scant attention to Wales' opinions on - we're not buying any of it."
The prime minister has promised the House of Commons a meaningful vote, but a large number of MPs - including Brexiteer Tories and the Labour PM defends Brexit deal on Welsh visitrontbench - are opposed to the deal.
It is currently not clear how it will pass, or what would happen in the event it is rejected.
On Sunday the prime minister wrote a letter to the public asking for their support for the Brexit deal.
She said her agreement promises a "brighter future" for the UK and leaving the EU next year will be "a moment of renewal and reconciliation for our whole country".