Transport for Wales doing fantastic job says minister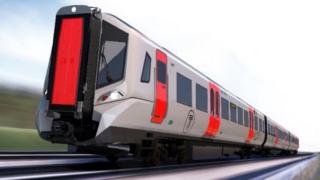 Transport for Wales has been backed as doing a "fantastic job" by a Welsh Government minister despite the rail franchise cancelling services.
Bus replacement services are in place after the newly established firm said a third of its 127 trains were damaged.
Julie James praised the firm for the "swiftness of their response" and blamed "years of underinvestment" on the rail network in Wales.
But she was accused of being "detached from reality" by the Conservatives.
Members of the public have also vented their frustration on social media.
Transport for Wales has warned of up to three weeks of disruption on its network, beginning last Monday, with services not running or being replaced by buses.
It said damage to wheels had been caused by the seasonal conditions and said engineers were working round the clock.
The franchise, operated by KeolisAmey, was awarded by the Welsh Government earlier this year. The previous service, Arriva Trains Wales, was overseen by the UK government.
In the Senedd UKIP group leader Gareth Bennett said: "Most rail users simply don't understand why 25 per cent of the fleet had to be withdrawn all at the same time this autumn".
"Why could the withdrawal not be staggered to, say, five per cent of the time over five weeks, rather than 25 per cent all at once in a week," he asked.
Ms James, government business minister, replied: "Actually, Transport for Wales have done an absolutely fantastic job, and 10 per cent of the fleet is now back in action again."
"So, I think, actually, they're to be praised for the swiftness of their response."
She said an operational recovery plan was in place.
"Of course, we are very sorry indeed... to find ourselves in the position where Transport for Wales has inherited a fleet of trains - very substandard and substantially not what we'd expect - frankly from years and years and years of underinvestment by the private sector," Ms James added.
"We've only had the franchise for just under a month, we cannot correct the underinvestment of 15 years in four weeks."
Tory AM Andrew RT Davies accused Ms James of being "detached from reality".
"Remarkable response," he added.
In Wrexham, the council's lead member for transport, councillor David Bithell, has written to the Welsh Government's Transport Secretary Ken Skates to complain about cancellations.
"The situation is unacceptable and has caused unnecessary inconvenience and disruption to people in Wrexham.
"I have asked him to investigate how such decisions are made and subsequently communicated to passengers."
In response to the concerns, a spokesman for TfW has apologised for the inconvenience caused.
The organisation said it could take from two to three weeks from the start of the issues for services to return to normal.
However, they added that it may take several weeks before a normal service resumes.