Not enough money for social care in Wales, say AMs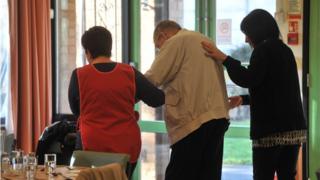 Funding for social care in Wales is not enough to meet demand and the situation will only get worse, AMs have said.
Members of the health committee say they have serious concerns over the level of cash available for the service.
It warns funding will be squeezed further with cuts to council budgets, an ageing population and an increase in chronic conditions.
Social care is provided by local government, which is facing cuts.
The claims come as committees in the assembly deliver their views on the draft budget for the next financial year.
It announced more NHS cash but included real-terms reductions to local government budgets - although a later announcement said that no council will face more than 0.5% cuts.
An extra £20m was provided within the cash settlement to councils for social services, while £30m was being provided for social care outside of the main grant to councils.
AMs welcomed the extra money, but said: "We have serious concerns over the level of funding for social care services generally, including that the current level of funding is insufficient to meet demand, and that this situation will worsen with continuing cuts to local government budgets coupled with our ageing population and an increase in chronic conditions.
"We believe that, as a matter of necessity, a more holistic approach to health and social care funding, including the holding of joint budgets, should be explored."
The health committee expressed concerns at the "ongoing inability" of some NHS health boards to "maintain financial discipline".
Four health boards - Betsi Cadwaladr, Hywel Dda, Abertawe Bro Morgannwg and Cardiff and Vale overspent in the three years ending 2017-18.
Calling for more information on the cause, AMs on the committee said: "We believe it is of crucial importance to understand the extent to which this may be due to management issues at individual health board level, or how much it may be due to... their funding allocations."
'Threat' to NRW services
The environment committee expressed concern that 3% cuts to Natural Resources Wales - from £68.4m to £66.3m - could have an impact on non-statutory services it provides.
The body said that a reduction in revenue funding "does threaten the services and new duties that we can offer".
Cabinet secretary for rural affairs, Lesley Griffiths, told the committee that she was confident NRW is "managing their budget in a way that ensure they fulfil all their" legal responsibilities.
But AMs said they were "not persuaded that the continued reduction in funding for NRW has not had an impact on its ability to deliver core services."
Meanwhile, the finance committee said Wales must be "fully prepared" for new income tax powers - a proportion of the Welsh budget will be raised from the tax by next April.
It called for assurances that budget forecasts are as accurate as they can be.