Ministers' confidence in under-fire Natural Resources Wales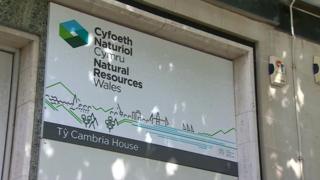 Natural Resources Wales (NRW) has the confidence of the Welsh Government, the environment secretary has said.
Lesley Griffiths rejected calls for the organisation to be scrapped following a timber sales debacle.
She said recent appointees were best placed to oversee improvements to the environmental agency.
The Welsh Conservative's Andrew RT Davies said the sector had lost confidence in NRW and it should be abolished.
His call came after a highly critical Public Accounts Committee report into the repeated sale of timber without going to the open market.
The committee said that incompetence could not alone explain what happened.
In a response to a question from Mr Davies, Ms Griffiths said the report makes "uncomfortable reading".
She outlined the appointments of a new chief executive Clare Pillman in February 2018, an interim chair on 1 November and new board members the same month.
"They are best placed to oversee the improvements needed to ensure mistakes are not repeated. They have my full confidence," she said.
"There gets to a point that you really have to call time on these things," he said.
"From the sector itself the confidence is just not there to see this organisation through to actually what it was intended to do, to be a guardian of the environment."
But Ms Griffiths replied: "You have to recognise, and you clearly don't in your question, the excellent work that staff do."
Plaid Cymru's Llyr Gruffydd said scrapping the organisation is not the answer. "It won't help."
But he expressed concerns over the resources available to the organisation, saying it had faced real-terms cuts of 35% since it was set up in 2013.
"At what point does Natural Resources Wales grind to a dysfunctional halt," he said.
Neil Hamilton, UKIP AM, said Ms Pillman was a "vast improvement on her predecessor".
But he asked if there was an argument for the separating out of the commercial functions of NRW.
Ms Griffiths said she had spoken to the chief executive about it, but she did not think that should be done at the current time.