Wrongly paid student grants totalling £3m written off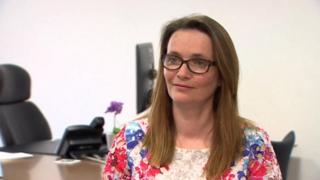 Around £3m wrongly paid to part time students on distance learning courses will be written off, Wales' Education Secretary has announced.
Kirsty Williams said payments included childcare and adult dependants' grants and parents learning allowance.
Such "grants for dependents (GFDs)" are for students physically studying at a college rather than at home.
She said 471 GFD applications for 2018-19 from students who received them the previous year had been put on hold.
In a written statement to assembly members, Ms Williams said Student Finance Wales (SFW) and the Open University (OU) in Wales had paid the grants "in good faith" due to a "genuine misinterpretation" of student support regulations that applied across the UK.
The education secretary said students who started their courses before 2018 would still receive GFDs until finishing their studies or leaving their course "as long as they continue to meet all other eligibility criteria.
"I do not think that it would be fair to allow any of the students to suffer financial loss or hardship as a result of removing access to the support that they have been awarded to date," she said.
"I have therefore agreed to write-off the part-time GFD payments made in error totalling £3.25m and this will be recorded in the Welsh Government's 2018-19 financial accounts.
"In addition I have also agreed that future awards will be recorded as special payments - further information on the value of the payments will be included in the our accounts in future years.
'Learn lessons'
Ms Williams said SFW and the OU had assured her that all applications had now been processed and awards would be made to students "as quickly as possible".
She said the Welsh Government would look at its processes and procedures to "ensure that we learn lessons to make sure that this cannot happen again".
Conservative education spokeswoman Suzy Davies said the episode "cannot be swept under the carpet and someone must be held accountable".
"Questions need to be answered as to which body was responsible for this, was due process followed, and why it was able to go on for so long?"
"Wales had enough of this government losing its money through mismanagement," she added.