Plaid Cymru wants Labour to help build Brexit coalition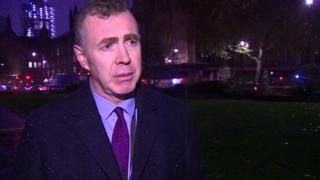 Plaid Cymru and Labour should help build a coalition against Brexit "chaos", Plaid leader Adam Price has said.
His call came after a meeting with Labour leader Jeremy Corbyn Mr Price described as "productive".
He said the "least worst Brexit" would be to retain membership of the European single market and customs union.
They met as the Bank of England warned a no-deal Brexit could trigger a worse recession than the financial crisis.
Mr Price said: "The best option available to us in terms of our economy is remaining in the European Union", but that "we need to take this decision back to the people" in the form of a further referendum on UK membership of the EU.
He added: "We are seeking to cooperate with all opposition parties stop the chaos and deliver a workable solution."
In Prime Minister's Questions on Wednesday, Theresa May said her plan for leaving the EU was "the best deal available for jobs and our economy, that allows us to honour the referendum and realise the opportunities of Brexit".
Mrs May is touring the UK to sell her deal to the public, ahead of a House of Commons vote on it on 11 December.
Many MPs across the chamber are deeply sceptical about her prospects of winning that vote.