Leadership needed on electric vehicles, say experts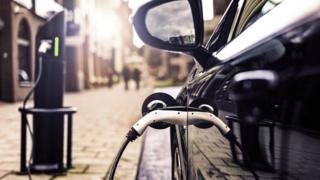 Wales is "crying out for leadership" from the public sector on electric vehicles, a committee of AMs has heard.
An expert panel said Welsh ministers should set public bodies targets to adopt electric cars, to cut emissions.
The Welsh Government hopes to slash gas emissions by 2020 and has put £2m into developing electric car charge points.
Welsh ministers said they had "committed to converting the public transport fleet and rolling stock to low carbon within the next ten years".
The UK Government has said that sales of new diesel and petrol cars and vans will be banned by 2040.
Dr Neil Lewis is manager of social enterprise Carmarthenshire Energy, which helps community owned renewable energy projects.
He told the economy and infrastructure committee Welsh ministers had not given clear signals that they "believe in electric vehicles" and bold statements and reassurance were needed.
"We could set a moratorium for all public bodies that all their internal combustion engines light vehicles should be electric by a certain date. I'd go for 2021. Unless they make a business case.
"I think if we set targets, like we did with recycling...that goes loud and proud around the world then. Wales is leading on electric vehicles at last."
Dr Lewis said his recommended target was achievable, but needed to happen soon.
"I think Wales is crying out for leadership from this place though, I think a message like that for example... Forget 2040, it's embarrassing. The change will happen in the 20s, and probably the early 20s.
"I think you'll find when the public fleet is electric; it will save the public purse a great deal of money. Because it's low maintenance and low fuel costs."
A BBC Wales Freedom of Information request found that all 72 vehicles owned by the Welsh Government last year- including 12 ministerial cars - used diesel, despite policies promoting the use of electric vehicles.
Dr Liana Cipcigan, Co-director of Cardiff University's Electric Vehicle Centre of Excellence, said the most important thing was to attract investment by leading by example and sending "the right signals to the public".
Shea Buckland-Jones, who coordinates the Institute of Welsh Affairs' Re-Energising Wales Project, said a starting point would be to investigate other public services around Wales to see "why they've done it, and why the rest of us haven't".
"I think those who've adopted EVs (electric vehicles), so Swansea council as an example, Mid and West Fire Service, they've adopted EVs and hydrogen vehicles, so they've taken that plunge, they're installing charging points."
The Welsh Assembly's Economy, Infrastructure and Skills Committee is currently conducting an inquiry into electric vehicle charging in Wales.
The Welsh Government said it was already showing leadership in this area by installing charging points in its offices and "looking into introducing electric vehicles into our fleet".
A spokesperson said: "We have also committed to converting the public transport fleet and rolling stock to low carbon within the next ten years.
"Part of our Low Carbon Pathway for Wales is to look at partnerships with the wider public sector and see how we can work with them to further reduce emissions across the country."