Call for ambulance time target for stroke patients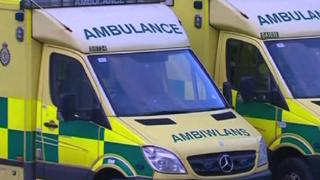 A grieving family insist that an ambulance time target for stroke patients is necessary, following the death of their mother.
Sue Newell of Nercwys in North Wales died aged 68 of a stroke in August 2017.
Her family called for an ambulance but said the response was too slow; she never recovered.
The Welsh Ambulance Service has said things went wrong in Mrs Newell's case but adds its system is appropriate.
She had also needed an ambulance six months earlier, when both a paramedic and a GP believed she had had a stroke.
On that occasion, she waited, lying on a kitchen floor for nearly 11 hours and a further two and a half hours in an ambulance queue outside Ysbyty Maelor.
The family's comments follow a recent review of how the Welsh Ambulance Service responds to serious but non life-threatening calls, known as Amber Calls.
The Welsh ambulance service introduced a traffic light system for calls in 2015.
Strokes are included in the amber category, with no time target.
'Delays causing harm'
Sue's daughter, Anna, was with her on the night she first collapsed.
"In those hours that went by, we were ringing and ringing 999, desperate to know what help was coming.
"I knew that there was a window, if it was a stroke, that my mother could be treated with thrombolysis, which is a clot-busting drug."
Anna and her family are disappointed that the Amber Review did not recommend an ambulance time target for conditions like strokes.
"I had great expectations for the Amber Review. These delays are causing harm to a lot of people but somehow it's managed to, on paper, look like things are not that bad," she said.
"The policy to hold people like animals outside our hospitals is totally unacceptable. I'm desperate that we see some change so my mum's life isn't wasted and things can be better for people living in Wales."
Traffic light system 'right'
Welsh Ambulance Service Chief Executive Jason Killens believes the system "right and clinically appropriate."
He admitted that handover delays - when ambulances are unable to hand over patients to hospital team- are a problem.
Mr Killens and a spokesperson for Betsi Cadwalader Health Board insist that they are working together to reduce handover delays.
In response to questions about the long ambulance queues outside hospitals, a Welsh Government spokesperson said: "Patients must be handed over to the hospital team quickly and in order of clinical priority. Health Boards are responsible for ensuring that this happens."
The Stroke Association does not think that strokes need to be re-categorised as red, but it does think there needs to be a target to make sure stroke patients are treated within three hours.
For more on this story, watch Sunday Politics at 11.00 GMT on BBC One