North Wales Growth Deal: Welsh Government confirms £120m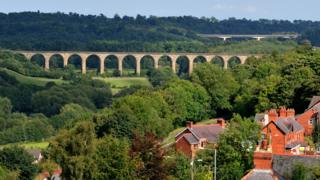 An economic regeneration scheme that aims to generate thousands of jobs in north Wales will be given £120m by the Welsh Government.
Ministers in Cardiff will match the UK government's investment in the North Wales Growth Deal.
The deal aims to create 5,500 jobs and bring £671m investment to the region.
The UK government had been criticised for not putting enough into the 15-year scheme. Economy Secretary Ken Skates said he will match any increase.
The North Wales Economic Ambition Board (NWEAB) had hoped to secure £335.5m between the Welsh and UK governments. Friday's announcement brings the total committed to £240m.
Mr Skates said: "We believe we need to keep pressing the UK government to provide what the ambition board had been expecting and should its contribution increase, we will match it."
A total of 16 projects are planned including in low carbon and nuclear energy, university research; better transport links growing digital businesses; increasing skills and opportunities to keep more young people in the area.
The growth deal is aimed at improving what the region has to offer in a number of areas, including land and property, energy, skills, transport and adventure tourism as well as digital connectivity and technology.
Property shortages across north Wales have led to concerns that businesses are being held back from growing and creating more jobs.