Labour split MPs owe careers to party, says First Minister Drakeford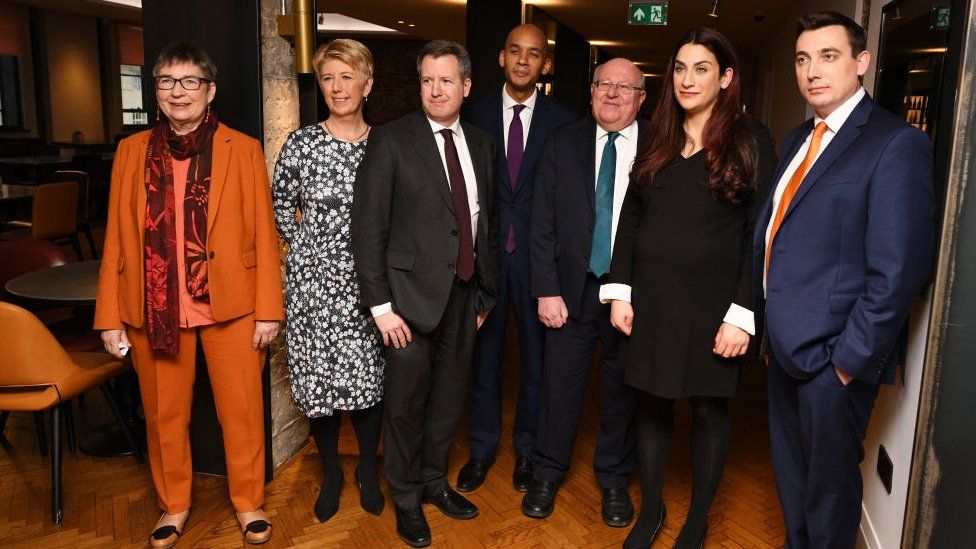 MPs that have quit Labour to form the new Independent Group owe their careers to the party and should trigger by-elections, First Minister Mark Drakeford has said.
He said it would be "democratically right" for the MPs to face their electorates.
Joan Ryan became the eighth MP to quit on Tuesday night.
Mr Drakeford told the BBC's Wales Live programme: "Inevitably in a party that is a broad church, there are times where you're not as completely in sympathy with the direction of the party as others.
"I've always believed, in the long periods that I've been in the party, that your job is to stay and argue your corner.
"I'm saddened to see people decide not to do that, to leave the party which after all provided them with their career and the platform for which they are now speaking."
He said it was the "democratically right decision" for the MPs to face by-elections, adding: "If you are elected as a representative of a particular party and you decided that you do not want to do that in the future, you should go back to the people that put you there and let them have that choice again".
"But it isn't generally the way that our system in the United Kingdom has operated", he said, adding that there were examples in the assembly where this has not happened.
One of them, not named by Mr Drakeford, is Dafydd Elis-Thomas, who is now deputy culture minister and did not trigger a by-election when he left Plaid Cymru.
Earlier in the week Leanne Wood, Plaid Cymru Rhondda AM, asked if Mr Drakeford would insist the same for the deputy minister.
During the interview Mr Drakeford said there was absolutely no part for anti-Semitism in the Labour Party or more widely.
One of the MPs to go - Luciana Berger - accused the party of being institutionally anti-Semitic.
The first minister said he had seen some "of the awful things" that have been said about Ms Berger.
"I don't think anybody should treat that as though it were not something that has to be taken profoundly seriously."
His Labour group in the assembly has seen its own anti-Semitism investigation over comments made by Cardiff Central AM Jenny Rathbone.
Ms Rathbone had suggested security fears of Jewish people at a Cardiff synagogue could be "in their own heads".
The AM apologised and was given a formal warning, but details of the investigation have not been published.
Mr Drakeford told Wales Live he would be meeting "representatives of the Jewish community in the next couple of weeks."
"I will be there to listen and to learn from them, as to where they think there is more that we could be able to do, and where we are able to draw on assistance for them, I want to do that as well."
The new group of 11 are a strange fit, Brecon and Radnor Conservative MP Chris Davies has said.
"Time will tell what they actually stand for," he told BBC Wales.
"I am disappointed but not surprised that three members of my party have decided to become independent MPs. Quite what "independent" means is something that may or may not emerge," he added.
One Tory MP who has differed with Brexiteers on the future relationship with the EU has said he will stick by the party.
Former Welsh Secretary Stephen Crabb said: "I am a Conservative and want the Conservative government to succeed. I have no interest in jumping ship."