Theresa May: Clwyd South Tory group has no confidence in PM
By James Williams
BBC Wales Brexit correspondent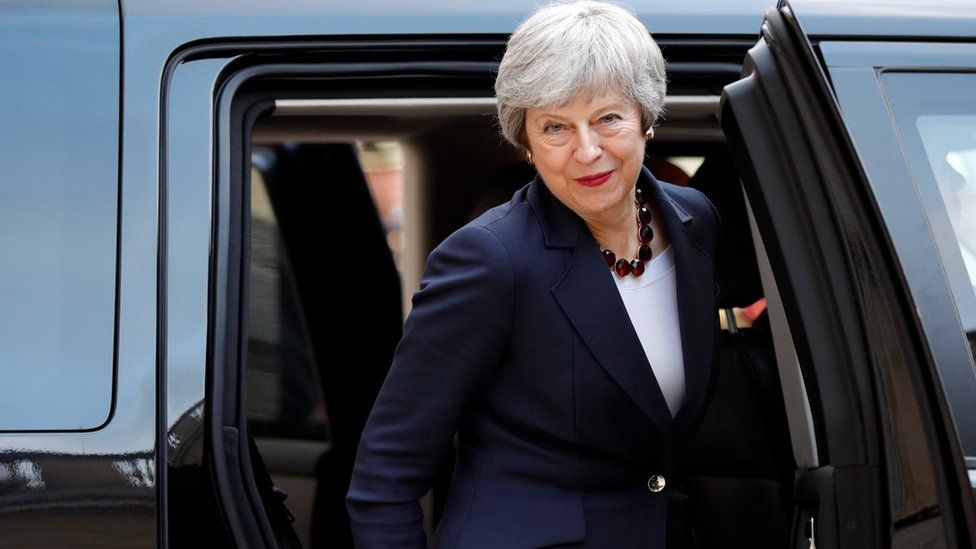 The prime minister has "lost the trust" of Tory grassroots campaigners over her handling of Brexit, according to a party chairman in north Wales.
Clwyd South constituency members voted overwhelmingly for a motion of no confidence in Theresa May on Wednesday.
Chairman Gareth Baines said he could not remember a time when the party's morale "has been so abjectly low".
The Welsh Conservatives declined to comment.
Commenting on the result, Mark Wallace of the ConservativeHome website said: "Open revolt like this is rare and a sign of how bad things have got."
Mr Baines was not one of the signatories but ahead of the vote, he said the Clwyd South Conservative Party would "collectively sign-up" to the call should members pass the motion of no-confidence.
He said the mood in the party "ranges from despondent to apoplectic" and personally believed the longer the prime minister stayed in post "the more damage she's doing both to the party and to the country".
He added: "I don't think it's just the Brexit process, I genuinely think it's the prime minister in general.
"I don't think people think she's doing a great job, first and foremost of Brexit, and secondly of anything else.
"I think she's lost the trust of grassroots members and that's the worrying thing."
The prime minister is hoping an agreement can be passed in the House of Commons in the coming weeks that would allow the UK to pull out of taking part in the European Parliamentary elections at the end of May.
Mr Baines said "quite a substantial number of [Conservative party] members" have told him they would vote for the Brexit Party should the European elections take place.
He added: "I've asked around all of our members and I've yet to hear a single person say they'd be happy to knock on doors and leaflet or tele-canvas on behalf of the Conservative Party for the European Union elections."
Clwyd South has been represented by a Labour MP ever since the constituency was created in 1997.
Calls for the PM to go were echoed by Vincent Bailey, a Tory councillor in the Vale of Glamorgan and former Vote Leave press officer in Wales, and a party official in the constituency.
He said the party in government had "abjectly failed the public".
"The only way to rescue this mess is for the prime minister to hand over the reins to a new leader who actually believes in Brexit," he added.
Russell Spencer-Downe, deputy chair of the Tory branch in the Vale of Glamorgan, said: "My view is she needs to move along for another Conservative leader to take control and bring the party back together because this has damaged the Conservative Party grassroots.
"If it continues there will be a Conservative Party but not one that can win an election."
David Fouweather, constituency chairman for Newport West, said he did not think "there's any appetite" for campaigning in the European elections among his local Conservative colleagues and "the whole thing is a farce".
He said he was unsure who he would be voting for: "I don't see the point of fighting European elections - we're going to be leaving the EU in October. It's a waste of money."
Members in Monmouth, the biggest Conservative branch in Wales, feel "a lot of anger towards the government", according to the local chair.
Mark Brown added: "I think many people who wanted to leave are very angry. People who voted to remain just want them to get on with things and have some clarity as to where we're going.
"Whether removing the prime minister is going to help with that, I highly doubt it but I would take that to our members if they called for it."
He said that he would do all he could for the party in the European Parliamentary elections but some members "would definitely consider voting for protest parties".
That is not something Jonathan Morgan, chair of Cardiff North Conservatives, has detected amongst members in his area.
"If those elections are going to happen then I do sense that some of our party members will happily get involved but certainly not in the numbers that we've seen before," he said.
Mr Morgan - a former Tory AM - said his members were more dissatisfied with MPs rather than with the prime minister.
"Without those grassroots members of the Conservative Party, the party simply cannot exist and I think it is worth reminding MPs of that fact," he said.
Linda Tyler-Lloyd, a councillor on Swansea Council was also supportive of Theresa May: "She started it and she needs to finish it but she hasn't had any backing - she's just had people being like spoilt children.
"People in my area have lost trust in all politicians in Westminster.
"Party members they just feel that Theresa May hasn't had any support, they are exhausted by it all."