European elections 2019: Tell MPs to make Brexit happen, says UKIP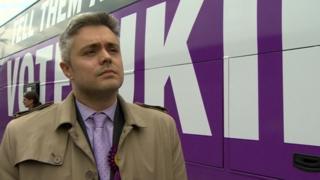 Voters should back UKIP in the European elections later this month to "make Brexit happen", the party's lead candidate in Wales has said.
Kris Hicks met voters in Newport on Friday after the party launched its EU election campaign earlier this week.
Speaking to BBC Wales Mr Hicks defended far-right activist Tommy Robinson, who party leader Gerard Batten appointed as an adviser last year.
UKIP came second in Wales in the previous EU elections, in 2014.
It won one of Wales' four seats but the party's successful candidate then, Nathan Gill, has since left UKIP.
Mr Gill is standing for Nigel Farage's rival Brexit Party, which UKIP leader Gerard Batten has called a "Tory-lite" ego trip.
Mr Farage quit the party after a bitter fallout with Mr Batten last year.
Mr Hicks said: "This time, Leavers in Wales have a choice between myself and Nathan Gill, and I believe this election is a referendum on Nathan Gill's time in the European Parliament.
"It is time for a fresh voice to represent Welsh Brexiteers."
UKIP arrived in Newport with the party's purple battle bus and UK leader Mr Batten. He declined to speak to BBC Wales because he did not want to answer questions about Mr Robinson.
Mr Batten did not join in with campaigning in Newport city centre with Mr Hicks.
"Gerard Batten is on the bus," Mr Hicks told BBC Wales Brexit reporter Cemlyn Davies when asked where Mr Batten was.
"He's ready to and prepared to go home. He's been campaigning all week."
Mr Batten's leadership has been divisive within UKIP and outside it - two former UKIP AMs have accused him of leading the party to the far-right.
His association with Tommy Robinson, a former leader of the English Defence League who is known for anti-Islamic views, has been criticised by Nigel Farage and others.
Mr Hicks denied the party was becoming far-right and defended Mr Robinson, who is standing as an independent in the North West where 11 parties and independents are standing.
He said Mr Robinson was "certainly a rough diamond and certainly not perfect".
"But at the end of the day he has stood for certain things that need to be brought to the fore," he added.
UKIP also had seven Welsh Assembly members elected in 2016, weeks before the EU referendum, but four of them have left the party.
The prime minister has said she hopes the UK will leave the EU well before the new 31 October Brexit deadline, by getting Labour backing for any new customs proposal before putting it to Parliament again.
MPs have so far rejected an agreement three times.
The European Parliament elections in Wales
There are eight parties fighting for four Welsh seats in the planned European elections on 23 May.
Welsh Labour, the Welsh Conservatives, Plaid Cymru, the Welsh Liberal Democrats, UKIP and the Green Party are joined by Change UK and the Brexit Party.