All pupils should learn Welsh history say opposition AMs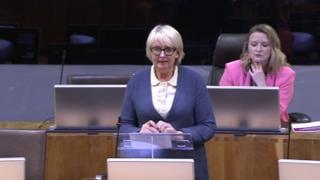 A call for every school pupil in Wales "without exception" to be taught the history of the country has been backed by assembly members.
Plaid Cymru's Sian Gwenllian said she wanted Welsh history to be central to a new curriculum introduced from 2022.
Ms Gwenllian and Tory AM Suzy Davies proposed a motion on the issue.
Education Minister Kirsty Williams said the "histories of Wales" would be a "core aspect of each and every area of learning and experience".
Arfon AM Ms Gwenllian, her party's spokesperson on education and the Welsh language, told the assembly the history of Wales was meant to be part part of the current curriculum, and yet "thousands upon thousands of pupils have been leaving school with a detailed knowledge of the history of Nazi Germany and the names of the six wives of Henry VIII, but not about the history of their own nation".
She said the proposed new curriculum "doesn't set out any basis for teaching the history of Wales".
"What concerns me about this, not including the history of Wales specifically within the framework, is there is no certainty that the history of Wales and historical events within the history of Wales will be included in lessons in studying the new curriculum," she said.
"We need to overturn that, and the new curriculum can be a particular opportunity to ensure that not one pupil loses the opportunity to learn about Welsh history."
"Learning about the history of Wales is vital for our next generations, to make them informed and engaged citizens, which is one of the purposes of the new curriculum," she added.
Although backing the motion, on behalf of the Welsh Government, Ms Williams stressed there was "not one single narrative or national story" about Wales.
"In supporting the motion, I am recommitting to the fact that the histories and stories of Wales will be a core aspect of each and every area of learning and experience across our new curriculum," she said.
"To be Informed, engaged and ethical citizen learners will make sense of their identity and our history, cultures and geography shaping it.
"However, I will make clear that the addition of statutory curriculum would be a direct contradiction to the structure and the framework which is being produced at a national level."