Carl Sargeant inquest: Carwyn Jones denies lying on oath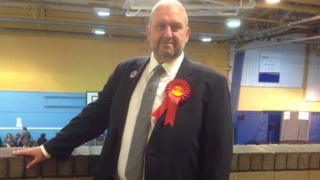 Former first minister Carwyn Jones has denied lying under oath over evidence he previously gave at an inquest into the death of a sacked minister.
Carl Sargeant, 49, was found hanged at his home in Connah's Quay, Flintshire, on 7 November 2017, days after he was fired from his cabinet post.
Mr Jones was challenged over how he had represented a request to another assembly member to support Mr Sargeant.
Mr Sargeant had faced allegations of inappropriate behaviour towards women.
The inquest had been adjourned after Mr Jones brought a legal challenge relating to admissible evidence last November, but it was rejected and resumed on Monday.
The court earlier heard evidence from Vale of Clwyd AM Ann Jones, who disputed evidence previously given by Mr Jones that she had been appointed in a pastoral care role to help Mr Sargeant after he was sacked.
Ms Jones said she had just acted as a friend and had made that clear to Mr Jones after he told her when Mr Sargeant died that he would tell the media that had been her role.
Referring to this evidence, coroner John Gittins told Mr Jones: "Either you were mistaken or I was misled, and perhaps deliberately."
Mr Jones told the coroner he believed Ms Jones was in a "liaison support role provided by the party, not the government".
He said he became aware Ms Jones had been contacted when his former special advisor Matt Greenough told him he had texted her. "He did what I would've asked him to do anyway," Mr Jones said.
Mr Jones said the first time he spoke to Ms Jones was after Mr Sargeant's death.
He told the coroner: "We were getting questions from the media." He added it was "absolutely not the case," that it was "some kind of cover story".
He said he told her as a matter of courtesy that he would tell the press she had been appointed in a support and liaison role, adding: "I was surprised that Ann told me she didn't see it in the same way."
'Fundamentally dishonest'
Leslie Thomas QC, for the Sargeant family, said evidence given by Ms Jones "directly contradicts" what Mr Jones had said under oath last November.
He had originally told the inquest he had spoken to Ms Jones over the weekend, but corrected that evidence in a new statement taken in March.
In a fiery exchange, Mr Thomas told Mr Jones: "I'm suggesting you are being fundamentally dishonest in your answers." Mr Jones denied this.
In a further bad-tempered exchange, Mr Jones asked Mr Thomas: "Are you accusing me of lying?"
"Yes, I am," replied Mr Thomas, adding that claiming he spoke to Ann Jones over the weekend was not true, and it had "come to light when a witness came forward.... you were caught out in a lie".
He continued: "Mr Jones, you didn't have anything in place for the protection of Carl Sargeant.... after Carl's death you approached Ann and you asked Ann to do something as an afterthought that she wasn't happy doing."
Mr Jones denied that, and also that there had been a media leak about Mr Sargeant's sacking. He said a BBC tweet at 11:33 on the re-shuffle day was "gossip" and "utter speculation".
Andy Sargeant, Carl's brother, told Carwyn Jones: "For me, Mr Jones, it's not a mistake. Your statement isn't a mistake, it's a damage-limitation exercise."
Discussing his phone records, Mr Jones said he never had a second phone. "I only had one phone and that was a government phone," he said.
Mr Jones also said there had never been any guarantee Mr Sargeant would stay in the cabinet.
He said he was sacked during a reshuffle and, as Mr Sargeant "was a friend of mine", he wanted to allow him time to "digest the situation" over the following weekend.
He added: "I have to say that the re-shuffle itself gave the opportunity for Carl to leave the cabinet without an immediate story of why.... it certainly wasn't the intention for it to be in the news that Friday or over the weekend," he said.
But things changed when Mr Sargeant tweeted about the situation, he said.
Asked if enough had been done, Mr Jones said: "I can't see what else could've been put in place."
Asked by the coroner whether he thought about contacting Mr Sargeant, he said he thought about it, but it "wouldn't have been appropriate".
'Give him a bell'
Earlier, the court heard Ann Jones had received a text message from Matt Greenough along the lines of Mr Sargeant not taking it "particularly well, will you give him a bell over the weekend?".
She said: "I had been friendly with Carl and I just saw it as someone saying 'just look out for him'."
Ms Jones told coroner John Gittins she did not view it as her being given a pastoral care role.
She said she had texted Mr Sargeant to say "if you're coming down mate, let us know and we'll catch up", which he had thanked her for, adding: "I still have no idea of allegation details... bastards."
After Mr Sargeant's death, when Mr Jones told Ms Jones in a phone call he was going to tell the media he had asked her to provide pastoral care, she told him: "Don't do that", as that had not been her understanding.
Ms Jones told the coroner: "I'm not trained as a counsellor, I'm not trained as a carer at all. In fact, I'm probably one of the worst people to be with."
She told a Labour group meeting the next day, which Mr Jones attended, that she saw her role as being nothing other than a friend to Mr Sargeant, and "the group tended to agree".
Leslie Thomas QC asked Ms Jones about a text conversation the Monday before Mr Sargeant died.
In one text, Mr Sargeant wrote: "I'm telling no-one again I'm thinking of running for first minister."
Mr Thomas asked whether the message suggested Mr Sergeant felt he had been "stitched up" because it was known he was thinking of applying for the role of first minister.
"I don't think I read it in any particular way," she told him, but conceded "yes you could put that interpretation to it".
'Pastoral care'
Ms Jones said despite Carwyn Jones' depiction of her as being given a pastoral role, she had not done anything in that capacity, adding: "I didn't want people and certainly I didn't want the family to think that I had been tasked with a role I hadn't performed."
She said she would not have "sat back" over the weekend following Mr Sargeant's sacking if she had had a formal pastoral care role.
Ms Jones earlier told Mr Gittins she "very much regarded Carl as a friend" and had known him throughout his career in the assembly, which started in 2003.
She did not know Mr Sargeant had suffered from depression, or that he was taking anti-depressants.
Asked about allegations of inappropriate behaviour against Mr Sargeant, she said: "He'd always been appropriately professional and he'd always been a real gentleman with me."
Cathryn McGahey QC, on behalf of Mr Jones, asked whether Mr Sargeant knew Ms Jones was "on the end of a phone" if he wanted to talk to her, to which she responded: "Yes, probably he did."
Texts
Giving evidence, Matt Greenough said he did not recall the content of several texts he sent to Ms Jones on the Saturday after Mr Sargeant was sacked.
When he first contacted her it was just so there was someone "Carl would know and like and trust".
Pastoral care "wasn't a phrase or an idea that came into my head", he said.
He added he thought enough care was given to handling Mr Sargeant's situation, adding: "We did the best we possibly could with the information we had," and that he had done enough by texting Ms Jones.
'I have failed you'
The inquest previously heard Mr Sargeant left a letter at his home, telling his family "I have failed you".
The court was told a "tangible" complaint about Mr Sargeant behaving inappropriately with two women was made in the weeks before he died.
The inquest has been adjourned until Tuesday.