Free childcare possibility for non-working parents in Wales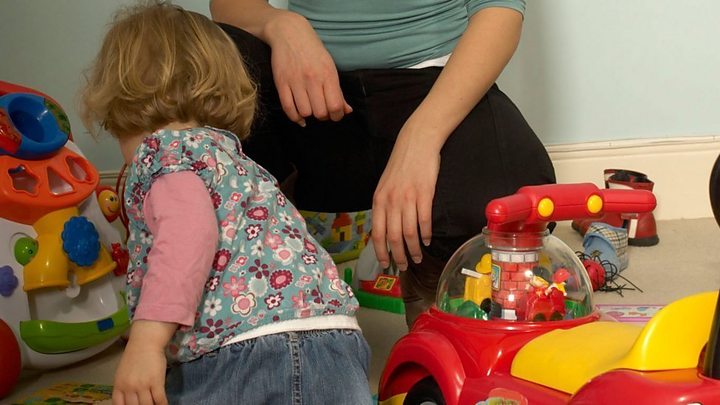 Free childcare for some non-working parents is being considered by the Welsh Government.
Working parents of three and four year olds are eligible for 30 hours of early-years education and childcare per week for 48 weeks of the year.
But ministers are now looking at widening eligibility to include parents in training and education and those on the cusp of returning to work.
Plaid Cymru said the scheme should have included "all parents from the start".
Lyn Bourne has run Britannia Day Nursery in Caerphilly since 2009 with two partners.
When asked her view on widening the scheme to non-working parents, she said: "I think it's a good idea…
"It would be beneficial for everyone to be able to access it in one form or another, even if it wasn't the full 20 hours and 10 hours education.
"To be able to get something would make such a difference to families. It would allow mum to have a bit of time and allow children to see other children, learn social skills, get the opportunity to play and it improves their independence... it can only be a positive."
The move comes as the Welsh Government said it had decided to suspend work on a £1m project with HM Revenue and Customs (HMRC) to change the way eligibility for the benefit is checked.
Some 15,000 families benefit from the current childcare offer but First Minister Mark Drakeford made a commitment in his leadership election manifesto last year to review the policy.
In a letter to the Welsh Assembly's children's committee, Deputy Social Services Minister Julie Morgan confirmed the findings of that review are expected early next year, and they could mean "significant changes" to the eligibility criteria.
"The review… will consider the feasibility of widening eligibility to include parents in training and education and those on the cusp of returning to work," she said.
Eligibility is currently assessed by local authorities, but to reduce the administrative burden on councils the government had been working with HMRC on the "Childcare Offer Wales Digital Solution".
This would have allowed tax officers to carry out the eligibility checks via its "Childcare Services" website, which already deals with UK-wide applications for childcare tax breaks and English applications for free childcare.
But in her letter, Mrs Morgan said "a number of issues" - including compliance with Welsh language standards and the decision to review eligibility criteria - have led her to suspend any further work with HMRC on the project.
"I acknowledge the significance of this decision," she said.
Mrs Morgan said local authorities are "content to continue with the present arrangements" while other options are considered.
A decision on her "preferred way forward" will be made next month, she said.
Childcare offer explained
All children in Wales are already entitled to a minimum of 10 hours of free, part-time early education in a school, or funded nursery, in the term following their third birthday. This is usually provided in a local school, day-care setting or community centre
The Childcare Offer for Wales offers an additional 20 hours from registered providers who have signed up with the Welsh Government to be part of the scheme
Parents are not required to access their early education entitlement as a prerequisite to accessing the childcare element of the offer
During the school holidays, when there is no early education, the offer will provide 30 hours a week of childcare for up to nine weeks
Following pilot schemes, the Welsh Government rolled out Childcare Offer for Wales nationwide in April.
Who is entitled to it?
All parents of three and four-year-olds can already access the early education entitlement
To be eligible for the additional 20 hours childcare offered by the Childcare Offer for Wales you must have a child within the age range and earn on average a weekly minimum equivalent of 16 hours at national minimum wage (NMW) or national living wage
If you are in a lone parent family you need to be working and if you are in a two parent family you both need to be working
Plaid Cymru education spokeswoman Sian Gwenllian said: "This is a farce and yet another example of Labour botching up a crucial policy.
"It was clear to everyone, including the Children's Commissioner, that the childcare offer should have included all parents including those unemployed and returning to work, from the start.
"Plaid Cymru warned Labour that their offer was flawed and would only create more inequality - but Labour ploughed on regardless - wasting £1m of public money in the process."
A Welsh Government spokesman said that was "nonsense" and it was doing "all it could" to support parents with childcare costs.
What do parents say?
Dad-of-two and mature student Lee Edwards said he "would love to be treated the same as everybody else" as the "financial burden" almost made him quit his studies.
The 47-year-old PhD student at Cardiff University said "virtually all" of his grant goes on childcare as, while his partner works, he receives grant funding - so does not qualify for free childcare.
"It's been extremely difficult," said the father of four-year-old Henry and two-year-old Jasper.
"It's a massive financial burden - the work-family life balance is completely askew. It feels unfair. It's almost made me have to quit my PhD. If my supervisor wasn't so flexible, I wouldn't be doing it now."
Kelly Brightman's four-year-old son Daniel attends a nursery in their hometown of Caerphilly and said the free childcare offer has given her "financial freedom" to double her income.
"It's priceless," said the self-employed 43-year-old. "To have that financial burden taken off is is just absolutely ginormous.
"I know Daniel is safe, I know he's in the hands of people he really enjoys being with. He's made friends here. Knowing that he's ok when I have to work, it's been magical."
Mum-of-two Rachel MacManus said "the cost of childcare in Britain can be crippling" and extending the scheme is a good idea.
"For us as a family in terms of savings it's certainly several hundred pounds if not a couple of thousand pounds a year," said the 41-year-old mother to five-year-old Connie and three-year-old Tilly.
"People who are retraining, in education and things like that, who are looking to be contributing members of society.
"I definitely think there should be more support - and those people are going to be paying taxes when they are earning a better salary."