Brexit: Most Welsh MPs to back anti-no deal plan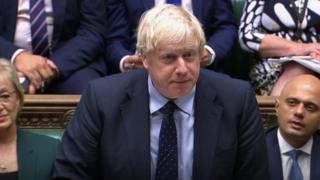 Most Welsh MPs are expected to vote to take control of Parliament on Tuesday as opposition parties and Tory rebels team up against a no-deal Brexit.
Labour, Plaid Cymru and others want to prevent the UK from leaving the EU without a deal on 31 October.
Commons Speaker John Bercow has given MPs permission for an emergency debate that will lead to the vote.
The prime minister is expected to seek a general election in October if the anti-no deal move proceeds.
A new poll would need the approval of Parliament, but pro-Remain MPs said the priority should be to stop no deal.
Welsh Labour and others in Wales have warned of the danger a no-deal Brexit poses to the economy.
The emergency debate, led by Tory MP Oliver Letwin, will culminate later in a vote that will allow anti-no deal MPs to start trying to pass a new law on Wednesday.
This will to try to make the government ask the EU to delay Brexit until 31 January 2020.
A total of 34 out of Wales' 40 MPs are expected to back the plan.
Supporters include all Welsh Labour MPs, Plaid Cymru's four MPs, the Welsh Liberal Democrats' Jane Dodds. The only Tory MP to back the effort is Aberconwy's Guto Bebb.
Earlier he said centrists were turning their back on the Conservative Party.
Meanwhile Aberavon MP Stephen Kinnock has joined 16 other Labour MPs in calling for Theresa May's withdrawal agreement to be brought back to Parliament, with concessions that had been made to Labour during cross-party talks added, as an amendment to the anti-no deal bill.
It is Ms Dodds's first day in Parliament, after her victory in last month's Brecon and Radnorshire by-election.
Two Welsh MPs - Plaid's Jonathan Edwards and Labour's Stephen Doughty - were among those MPs who put their name to the emergency debate motion.
If the rebels succeeded in their aims, Boris Johnson has said it would force him to go to Brussels to "beg for another pointless delay" to Brexit and he would "never" do that.
Earlier on Monday, former prime minister Tony Blair warned that a general election could prove to be a "trap" for Labour - but party leader Jeremy Corbyn said the UK needed fresh polls.
Cardiff Central Labour MP Jo Stevens told BBC Wales: "In the national interest, every effort by democrats of all parties in Parliament this week must be 100% focused on preventing Boris Johnson's reckless no-deal Brexit on 31 October. That is the absolute and only priority for the moment."
She said: "As far as a general election against Johnson is concerned, we'll support one when it's in the national interest of the country to do so - at a time of our choosing, not his."
Her party colleague, Pontypridd's Owen Smith, tweeted that it was not in Labour's or the UK's interest to vote for a general election.
'Unique moment'
Conservative Clwyd West MP and former Brexit minister David Jones said Labour politicians he had spoken to were "extremely concerned about there being a general election because I think they see themselves squeezed by a combination of the Conservatives and the Brexit Party".
"We're at a unique moment in our history at the moment and it will be interesting to see if the Labour Party do push a motion of no confidence in the government," he said.
"I doubt whether they will.
"And it will be interesting to see also if it's necessary for the prime minister to call for a general election whether they support it."
Mr Jones said the prime minister was "doing a good job trying to secure a deal with the European Union and colleagues should be giving him the opportunity to do that rather than trying to makes his task more difficult".
The view from Pontypridd, by BBC Wales Today presenter Nick Servini
Exasperation, frustration and confusion. They were all in abundance at Pontypridd's Ynysangharad Park when I spoke to parents flagging at the end of a long summer looking after the children, and seriously flagging at the Brexit drama unfolding at Westminster.
Fair to say the prospect of a general election was not greeted with enthusiasm. As one mother told me: "I don't know who to vote for."
She is reflective of the kind of person easy to find throughout the south Wales valleys these days: a Brexit-supporting traditional Labour supporter feeling estranged from her Remain-supporting local MP.
Many in Labour are calling the prospect of an election a trap but there are Jeremy Corbyn supporters out there who clearly feel that if the opportunity to put him into number 10 is there, then the party should take it.
The Remain-supporting mums I spoke to broadly agreed with the MPs looking to take no deal off the table. One told me she was willing to accept Brexit but leaving without a deal was simply a step too far and too damaging to prospects for her children.
On Monday, Plaid Cymru called for pro-Remain parties to align to campaign to revoke Article 50 - the mechanism that would take the UK out of the EU - if a general election is held.
Westminster leader Liz Saville Roberts said: "Our priority remains to use legislation to stop 'no deal' and deliver a final say referendum. However, we will be ready to fight an election to end this chaos, revoke Article 50 and stop Brexit."
Plaid will put the question of revoking Article 50 to a vote when AMs are recalled from their summer recess to debate the proroguing of Parliament on Thursday.
It is an amendment to the Welsh Government's motion, also backed by Plaid Cymru, that the plan to prorogue Parliament was a "constitutional outrage".
In contrast, Brexit Party AMs will back a "clean break Brexit in light of the refusal of many MPs to accept the result of the 2016 referendum and the intransigence of the European Union in its negotiating position".
Analysis by BBC Wales political editor Felicity Evans
For the PM's statement on Monday that he did not want an election, read: don't make me call one.
I'm not sure if this will be enough to get Tory rebels back into line but, either way, Boris Johnson's phrasing keeps his options open.
Another question is whether the prime minister can get support in Parliament for a snap election.
That is a tricky one for Labour. They will be wary of falling for what Tony Blair called the "elephant trap".
But, on the other hand, an opposition doesn't want voters to think it is election shy.