First Minister says Boris Johnson has lost all respect for the truth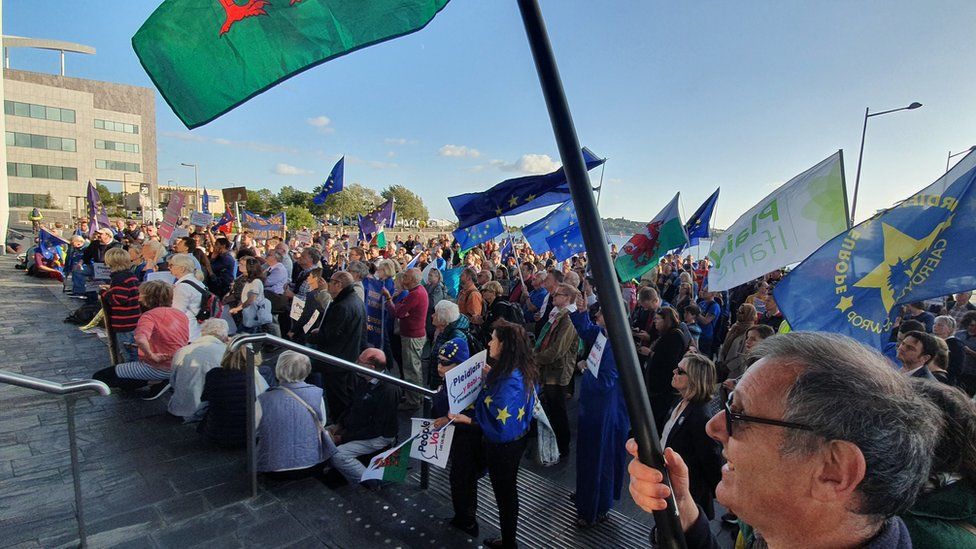 Boris Johnson's government has "lost all respect for the truth" and lost "its moral compass", Wales' first minister has claimed.
In a fierce attack, Mark Drakeford said the prime minister had "forfeited the respect on which our democracy relies".
Senior Conservative AM David Melding said he wanted no part in a no-deal Brexit strategy that would hurt "the most vulnerable".
A majority of AMs voted on Thursday to oppose the plan to suspend Parliament.
They were recalled early summer break to debate a joint Labour-Plaid Cymru motion calling the suspension a "constitutional outrage", which is not binding on the Brexit process but does indicate the views of a majority of AMs.
The vote, which also declared a no-deal Brexit would cause significant short-term disruption and deep long-term damage to Wales, passed by 32 votes to 12.
Hundreds of anti-Brexit protesters gathered on the Senedd steps following the debate.
Later on Thursday Mark Drakeford said the right time for a general election could be November.
Criticising Mr Johnson's actions in recent weeks, including his decision to suspend Parliament, Mr Drakeford accused his administration of dishonesty.
"When the Downing Street official spokesperson is put up to say that the prime minister has no plans to prorogue Parliament, when a Scottish court discovers that he had already decided to do just that, that is not just telling your own version of the truth," he said.
"Let us call it what it is: it's a lie, a deliberate, intentional lie."
This was a "government which has lost all respect for the truth" that had "lost its moral compass", he told AMs.
"It leads to the belief that the inconvenience of Parliament is best addressed by its enforced silence."
"A government which has no respect for the truth has forfeited the respect on which our democracy relies," he added.
"This is why it is absolutely essential that we send a clear message of support today, support to those in Westminster and in the courts who are even now fighting this abuse of power."
But Conservative assembly group leader Paul Davies said he feared the debate was "contradicting the devolutionary process and using a Westminster competence to grandstand", because Brexit was not a devolved matter.
On the issue of leaving the EU, he said: "As a country we need to move from this current impasse and we need to move forward together.
"As a Conservative I hope very much that my party will continue to be a broad church that listens and respects different positions and different views.
"What I've tried to do since the Brexit referendum is respect the outcome of the referendum result," he said.
He said Plaid Cymru should not call itself the party of Wales when it was opposing Brexit, when the majority of Wales had voted to leave the EU in 2016.
His fellow Conservative AM David Melding made a passionate speech expressing deep concerns over events in Westminster.
He said the UK faced its "greatest peacetime crisis since the Irish crisis [around a century ago].
"The truth is no-deal is a high risk strategy. But it's a high risk to be forced on the most vulnerable. And I will not be part of that," he said, calling for changes to Theresa May's withdrawal agreement, following negotiations with Labour, to be accepted.
Appearing to criticise the recent expulsions of Conservative MPs who voted to give MPs control of the Parliamentary agenda, rather than the government, Mr Melding said: "It's no time to drive the liberals out of the Conservative Party."
Before he spoke Lynne Neagle, Labour Torfaen AM, suggested there were others on the Tory benches that were uncomfortable with the current leadership, but were not speaking up.
Analysis by Felicity Evans, BBC Wales political editor
The Conservative AM David Melding's speech stands out a mile in this debate.
It's the first time a Welsh Tory AM has so openly, strongly and publicly criticised their party leader over Brexit.
MPs and AMs say there's deep unease within the Welsh party about Boris Johnson's expulsion of 21 Tory rebel MPs earlier this week.
Last night Montgomeryshire MP Glyn Davies called for Mr Johnson to find a method of bringing them back. In today's debate, the party's Senedd leader, Paul Davies, expressed his wish for the party to remain a broad church.
David Melding is not the only AM within the Welsh Conservative group in the assembly who is uncomfortable about the direction of travel, but he is certainly the most disturbed by it.
Plaid Cymru leader Adam Price compared Mr Johnson to 1930's British fascist leader Oswald Mosley.
"Dictatorship does not happen in a single step, in a series of small wounds that overtime fester and infect the entire body," he said.
"Having a British prime minister for such a wilful disregard for probity and democracy means we are living through times as dangerous as those as the 1930s.
"The populist English nationalism of Boris Johnson conjures up the memory of Oswald Mosley than that of Ramsay McDonald."
McDonald was the first Labour prime minister who split the party by leading a national government in the 1930s composed mainly of Conservatives.
Delyth Jewell, international affairs spokeswoman for Plaid Cymru, called for the legal process for leaving the EU to be stopped if there was not going to be another referendum.
"We need to change course," she said.
"There is nothing gallant or heroic in pursuing a Brexit that will cause untold chaos for our communities.
"If there is no referendum, and none currently seems forthcoming, then Article 50 should be revoked. But the sunlit glade that will get us out of that forest is wide open ahead of us, and that is an independent Wales."
Mark Reckless, Brexit Party leader in the assembly, said his group supports a "clean-break Brexit".
"I can envisage a deal that would be better than no deal. But unfortunately, that has not happened"
He said the EU "has been intransigent, particularly with a backstop that says we can never leave, without their permission, the Customs Union or the Single Market for Northern Ireland. And we've then seen MPs and other senior figures who voted remain refuse to accept the result."
Other amendments, including a call from plaid for Article 50 to be revoked, and a pro-no deal text from the Brexit Party, failed to pass.
No Tory amendment was tabled. BBC Wales was told this was because the debate was an "over-the-top political stunt".
A separate Welsh Conservative source said it was "bizarre" nothing was put forward. "I'm assuming we don't have an opinion," the source said.
A number of AMs did not take part in the vote on Thursday - some were understood to be on holiday, however Brexiteer AMs Gareth Bennett and Michelle Brown both boycotted the event.