Opposition disingenuous for not backing election - Alun Cairns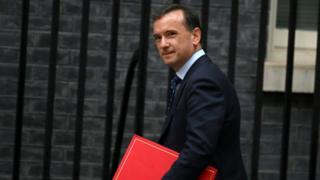 Voters will be angry with opposition MPs who wanted an election in the past but blocked Boris Johnson's attempt to hold one, the Welsh secretary has said.
The prime minister's call for a snap election was rejected by the Commons on Wednesday, including by most Welsh MPs.
Labour leader Jeremy Corbyn said his party would wait until a bill to stop a no-deal Brexit on 31 October is made law before approving an election.
Welsh Secretary Alun Cairns said such a position was "pretty disingenuous".
Mr Johnson called for an election after the bill was passed by the Commons earlier in the evening.
A majority of Welsh MPs have been supporting the anti-no deal plan.
Most members of Parliament in Wales rejected the call for a general election by either voting against it or not taking part at all, effectively abstaining by doing so.
A total of nine Welsh MPs voted against the motion - including Jane Dodds from the Liberal Democrats and three from Plaid Cymru.
Five Welsh Labour politicians - Chris Bryant, Jo Stevens, Owen Smith, Madeleine Moon and Albert Owen - were among 28 in the party that voted against. Most other Labour MPs did not vote.
All six Welsh Tory MPs backed the prime minister. Plaid's Jonathan Edwards served as a teller for the noes.
In total 298 MPs voted for an election versus 56 against, but because less than two-thirds of MPs supported the proposed election, the bid failed.
Speaking on BBC Radio Wales Drive before the vote, Mr Cairns said: "You've got opposition politicians who are calling for an election and then, all of a sudden, block it because they're also blocking processes in Parliament.
"I think it's pretty disingenuous of them and I think people will be pretty angry when it comes to an election, whenever that is."
Plaid did not want to vote for an election before the full implementation of the bill, which would extend the Brexit date into January 2020.
Plaid Cymru's Westminster leader, Liz Saville Roberts, said: "A general election right now does not solve the major crisis facing the four nations of the UK - it only increases the risk of a no-deal crash out of Europe."
The legislation against a no-deal Brexit now needs to be passed by the House of Lords before it can become law. Peers face voting on a large number of amendments tabled by the UK government.
Labour peer and former Welsh secretary Lord Hain said: "Boris has lost twice-over in the elected House of Commons; stopping his favoured but disastrous no-deal Brexit, stopping his early election to deliver a no-deal Brexit by the backdoor.
"So he's using the unelected Lords to try to get what he wants by trying to talk out the no-deal bill."
Brexit Party assembly leader Mark Reckless told BBC Wales Live that the anti-no deal efforts in Parliament were "absolutely disgraceful".
"Wales and the United Kingdom voted to leave the European Union and we are seeing tonight members of Parliament voting to block Brexit," he said.
An amendment to the anti-no deal Brexit bill tabled by Aberavon Labour MP Stephen Kinnock, which requires Labour's proposed changes to Theresa May's withdrawal agreement to be voted on, passed into the legislation on Thursday.
Mr Kinnock told the BBC his amendment passed in "extremely peculiar circumstances" after tellers did not arrive in the Noes lobby.
Rejecting claims his amendment was meaningless, he said it meant Mr Johnson should use the extension to pass the Withdrawal Agreement Bill, which he said was the "only deal ready to go".
The MP said Labour could not enable a no-deal exit "by voting for a general election".
"We are very concerned that if we facilitate a general election we could also facilitate a no-deal crash out, because Boris Johnson could use the election as a Trojan horse to smuggle our country out of the European Union in the middle of an election campaign," he said.
Jane Dodds, who beat Conservative Chris Davies in the Brecon and Radnorshire by-election in the summer, made her maiden speech in the Commons on Wednesday.
The Welsh Liberal Democrat leader warned that a no-deal Brexit would be "catastrophic for the people of Brecon and Radnorshire".
"Whether people voted Remain or Leave, they did not vote for a no-deal Brexit that would make them poorer," she said.
"They did not vote for long waits for life-saving medicines and they did not vote for a decline in our country's environmental standards."