Opponents 'throwing mud' to frustrate Brexit process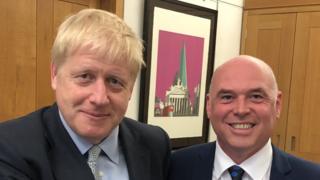 Opposition parties are trying to "throw mud" at the Conservatives in a bid to frustrate the Brexit process, it has been claimed.
Paul Davies, the party's leader in the National Assembly for Wales, said it was "clear" people in Wales wanted Brexit finalised.
At the Tory conference in Manchester, he backed Prime Minister Boris Johnson's call to "get Brexit done".
The UK is due to leave the European Union on 31 October.
"As a party, we have made it absolutely clear that we want to respect the outcome of the referendum result and that's why the prime minister has made it clear that we will be leaving the European Union on the 31 October," Mr Davies said.
"The political parties are trying to throw mud at us at every opportunity to try and frustrate the process of Brexit, but the people of Wales have made the decision to leave the European Union and we must now get on and do that."
Mr Johnson has said he would prefer a deal but would be prepared to leave without one.
However, a law was passed earlier in September aimed at blocking a no-deal exit.
It means Mr Johnson and his minority government will have until 19 October to either pass a deal in Parliament or get MPs to approve a no-deal Brexit.
Once this deadline has passed, he will have to request an extension to the UK's departure date to 31 January 2020.
But Mr Johnson has dubbed it the "surrender bill" and said he would rather be "dead in a ditch" than ask for an extension.
He has also lost a series of votes in the House of Commons including two attempts at calling a snap election.
This week, a motion of no confidence could be held in Parliament which allows MPs to hold a vote on whether they want the government to continue.
If the government loses the vote, MPs have 14 days to express their support for an alternative government.
If an alternative government cannot command a majority in the House of Commons in that time, a general election could be held.
Speaking ahead of the conference Mr Davies said: "We must get Brexit done so that we can focus on the issues that actually matter to people.
"We believe in the people of Wales to take on the challenge of adapting to life outside the EU and that Wales and the UK have a bright future once we deliver Brexit."
The Conservative Party is gathering in Manchester despite MPs rejecting a request for a three-day recess.
Labour and Liberal Democrats have already held their annual party conferences while parliament was suspended - but the Supreme Court has since ruled that the suspension was unlawful and MPs returned to Westminster last week.