Leanne Wood reprimanded for swearing on Twitter after vote of AMs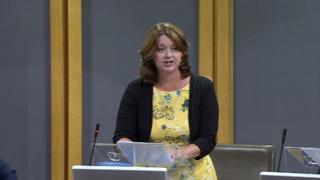 AMs have formally reprimanded former Plaid Cymru leader Leanne Wood for swearing on Twitter, following a vote.
Ms Wood said she was challenging a "misogynist bully" when she tweeted in January. The blogger, Royston Jones, strenuously denied the accusation.
She said it would not have been honest if she apologised in the way Labour AM Hefin David has for his social media conduct.
A total of 37 AMs backed the sanction, with 12 voting against it.
Most Labour AMs joined the Conservatives and Brexit Party in supporting the censure, while Plaid, UKIP, Neil McEvoy and Labour's Lynne Neagle voted against the reprimand.
Four AMs - Labour's Jenny Rathbone and Vaughan Gething, Lib Dem Kirsty Williams and independent Michelle Brown - abstained on the Senedd vote.
Assembly members debated the sanction, which does not result in further action and was recommended by a cross-party standards committee, on Wednesday.
Ms Wood's tweet came about after Mr Jones, who writes as Jac O' The North, criticised Delyth Jewell's confirmation as Plaid AM for South Wales East following the death of Steffan Lewis.
"Women's rights and international development. God help Plaid Cymru," Mr Jones said, referring to Ms Jewell's stated areas of interest.
Ms Wood quote-tweeted the message, sharing it with her followers and adding: "Do you have to be an arsehole all the time? Have a day off."
That tweet led to a complaint, not made by Mr Jones. Standards Commissioner Sir Roderick Evans found she broke the code of conduct - a stance agreed by the cross-party standards committee which recommend the official reprimand.
Ms Wood told AMs that it was "the first time that I've called someone an arsehole on social media".
She said she could understand why Sir Roderick "felt unable to be seen to be condoning the use by an assembly member of what he considers to be an offensive word".
"It would not be honest or right for me to issue an apology, because this is much more than a case of just swearing on Twitter," she said, saying her and other women regularly receive trolling and abusive tweets on a daily basis.
She said the context was a "well-known online misogynist bully who describes himself as a blogger" who had "issued a snide, passive-aggressive tweet, a thinly veiled attack on my colleague Delyth Jewell" before "she was in a position to properly defend herself".
The AM for Rhondda claimed she had seen "this person issue attack after attack on mostly women, but others, including disabled people, gay people, trans people and so on".
Ms Wood argued there was something "very wrong with an organisation's complaints procedures when the people standing up to a bully... are the people who get the complaints, and we are the people who get censured".
'No misogynist'
Mr Jones strenuously denied the claims made by Ms Wood in a statement provided to BBC Wales.
"My remark about Delyth Jewell was a reference to her background in the third sector, an area far too dominant in Welsh life," he said.
"I am no misogynist, ask any woman who knows me, but in the world of Leanne Wood any criticism of a female politician or a woman in business, etc, is misogyny."
The blogger said he had "never attacked gay people, trans people, disabled people. If Wood claims I have, then let her provide the evidence.
"Because my blog is read by many people this makes me a target for the left in Plaid Cymru and beyond."
Two members of the standards committee - the Conservatives' Andrew RT Davies and Brexit Party AM David Rowlands - defended the process.
Both expressed sympathy for Ms Wood, but Mr Davies said Plaid's representative on the standards committee had agreed with its findings.
"Frankly, if it isn't right to be used in this chamber, then clearly it is not right to be used on a platform when engaging with members of the public," he said.
Mr Rowlands, to heckling in the chamber, said a refusal to accept sanctions would lead "to anarchy in the assembly procedural rules".
But Labour Torfaen AM Lynne Neagle said the Plaid AM's reaction "was human, instinctive and protective, and it is those three characteristics that continue to bind women from all parties together in this chamber in the face of dehumanising threats and abuse".
Ms Jewell said Ms Wood was grieving for Steffan Lewis at the time of the tweet. "She could see how ill-judged, insensitive and cruel the timing and the tone of those messages about me were," she said.
Labour's Jayne Bryant, who chairs the standards committee, said its members were "united" in believing the abuse Ms Wood has faced was "completely unacceptable".
"The committee's decision was based on the use of a word - however minor the member or others see it - which breaches the code of conduct and the dignity and respect policy," she said.
The debate was followed immediately after by the case of Hefin David, the Labour AM for Caerphilly, who was found to be in breach of the code of conduct after he called former Plaid parliamentary candidate Vaughan Williams an "utter knob" and a "coc oen", which means "lamb's cock" in Welsh, on Twitter.
Mr David had apologised to the presiding officer, and the committee recommended no further action. Mr Williams was one of the individuals that had complained.
"It is my view.... that, when you are found in breach of the rules, it is right to apologise for breaching those rules," Mr David said.
"The decision of the Standards of Conduct Committee should be respected, and if you don't respect it, it can have the effect, and will have the effect, of undermining the standards process in this place".
He said he had experienced a "torrent of abuse" for comments he made about Welsh independence. One instance was raised with Plaid Cymru leader Adam Price. He told the chamber that an apology was received.