Childcare and parental leave help proposed for assembly members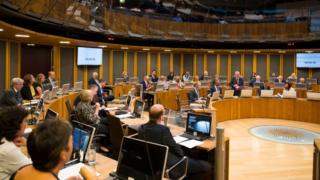 Welsh assembly members will receive extra funds for childcare under new plans.
An independent body has recommended AMs receive up to £297 a month for care outside of normal working hours.
The plan aims to remove barriers to membership of the assembly - with additional support for AMs on parental leave and those with disabilities.
Plaid Cymru AM Bethan Sayed said she was "deeply uncomfortable" with a childcare plan for AMs but not others.
Members of the public can have their say on the changes until March 2020.
If they go ahead the changes will come into force in May 2021, when the next assembly term starts.
Dame Dawn Primarolo, chairwoman of the Remuneration Board, said the proposals were aimed at contributing "towards achieving diversity within the Senedd's membership which in turn will deliver better representation for the people of Wales".
AMs are currently paid £67,649 a year, changing annually according to how much average wages in Wales rise or fall. That system would continue.
The board is not recommending a significant pay rise like it had in 2014, when the board sparked a row by backing a £10,000 increase.
Under the plans, members would be able to claim up to £297 for the care of children or adult dependants outside of normal working hours - classed as between 9am and 6pm.
AMs would need to produce evidence of using registered care providers.
The board also proposed allowing AMs going on parental leave to take on an additional staff member while they are off work.
There were calls for more help for assembly members on parental leave earlier this year.
Ms Sayed, who is currently pregnant, said extra money for politician's childcare "needs to be part of wider legislation that would benefit the public at the same time as any such proposal - or even before any such proposals - for AMs".
"I feel deeply uncomfortable with the idea of having an extra financial offer for AM's, when other women and parents are not afforded that same right, even though they too may be working un-social hours," she said.
"I agree that we need a plan for attracting more diverse citizens to stand as AMs, and looking at the range of issues as a whole may be a better way to go about this."
Islwyn Labour AM Rhianon Passmore said the childcare subsidy should apply to all assembly staff, not just assembly members.
"The Welsh Parliament/Senedd should be leading the way for all employers and it should be promoting accessibility for all its workforce at all levels."
Mandy Jones, a Brexit Party AM, called the childcare recommendation "absolutely wrong".
"I doubt there would be much public sympathy for giving members more publicly subsidised top-ups when they already enjoy a very competitive salary and pension provision."
Dame Jane Roberts, from the independent Remuneration Board, said the childcare idea had not been prompted by concerns raised by assembly members, but was the result of academic work by the Wales Governance Centre at Cardiff University.
"It's never popular to pay money to politicians but politicians are an important part of our representative democracy," she said.
"It is not a normal job in the same sort of a way.
"What we want to do is encourage as wide a range of people to put themselves forward and do remember this is not paying for childcare, it's only a very very modest contribution and it's outside normal working hours."
Under the proposals AMs with disabilities would also be able to claim for support for the costs of "reasonable" adjustments.
The consultation documents say a "very small number" of long-serving AMs from outside of south Wales still receive reimbursement for interest payments on properties they own.
The practice was phased out for new AMs from May 2011, but no end date was placed on when so-called "transitional arrangements" for when the interest payments would end.
Under the new proposals they will stop at the end of the next assembly term in 2026.
The Remuneration Board works independently of the assembly. AMs have no say in the implementation of the proposals.
Tougher rules on setting up an office
Other changes include more stringent rules on how AMs fund office accommodation in their constituencies.
It follows an investigation into a constituency office opened by former UKIP AM Gareth Bennett, which found he rented an unusable damp office against the advice of solicitors.
AMs will be required to "follow a set of principles which uphold the reputation of the Welsh Assembly, and are safe, and secure, and are open and welcoming to all who use them".
Members will also be expected to follow a formal procedure for acquiring an office and ensure that all leases, contracts and other relevant documents "comply with the law".
"While the Board believes that the significant majority of Members already comply with these rules, their formalisation will ensure better value for money for the taxpayer," the consultation document said.