Facebook dramas 'consuming Merthyr Tydfil council's energy'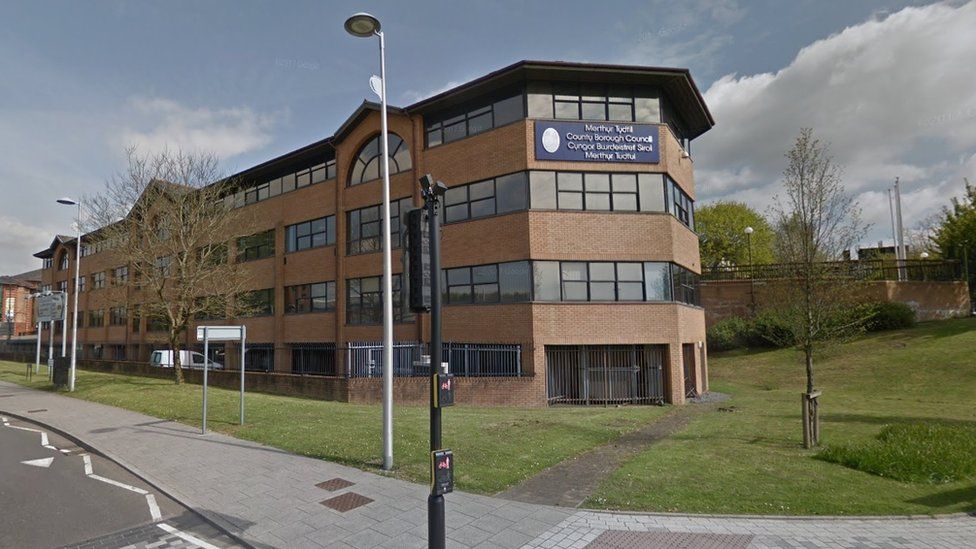 Political dramas on Facebook are consuming enormous energy at a local authority at the expense of other matters, a review has found.
Senior officers at Merthyr Tydfil County Borough Council are being asked to be "referees" rather than advisors.
The council is only just "keeping its nostrils above the waterline" and has a projected deficit of £15m to 2022-23.
Council leader Kevin O'Neill said a decade of austerity had put the council under pressure.
A subsequent review by an improvement board chaired by former Welsh Local Government Association chief executive Steve Thomas found a "debilitating lack of capacity and resilience" throughout the council, with the organisation functioning "by keeping its nostrils above the waterline".
It said there was an "urgent need" to address "poor attainment levels" in schools, and a "complete breakdown of trust" between the council and the trust which runs some leisure services.
The report says that across the council "there are political 'hotspots' and 'dramas" associated "with a variety of issues".
"Much of this plays out on social media sites especially Facebook," it said.
"The team fully accepts that this is part of the cut and thrust of local politics.
"But in the case of Merthyr Tydfil this can consume enormous organisational energy often at the expense of more important matters."
"With the debilitating lack of capacity highlighted in this report the council can ill afford to be subsumed by this.
"Senior officers are all too often being asked to play the role of "referees" as opposed to professional advisors. This must be addressed with a clearly signalled shift in thinking from antagonistic to strategic."
BBC Wales has been told the concerns mainly relate to problems caused by councillors getting involved in rows on a private Facebook page called Merthyr Council Truths.
The council's current financial plan shows projected budget deficits totalling £15m over the next three financial years.
Other problems included "significant concerns" about the ability of the council to deal with "practical ongoing issues".
"For example, the council's monitoring officer is also its sole qualified childcare lawyer providing advice, running cases and advocacy on behalf of social services," the report said.
"She also is responsible for HR, legal and a range of other services."
The Welsh Government is appointing extra advisers to help with education, social services, corporate governance and leader, cabinet and member development.
Local government minister Julie James said there needed to be "widespread commitment from all members and officers to achieve a sustainable future for the council and to deliver good quality services to the people of Merthyr Tydfil".
Mr O'Neill called for more cash for his council, saying a "decade of austerity" had put significant pressure on the council.
In a statement he said said: "The way forward now for this organisation is to build a model that suits our capacity and our resources."
"My cabinet and senior managers are working closely together to ensure that the right systems and structures are in place to review and resource the high level of service delivery that our residents deserve," he said.
"The improvement and Assurance Board will continue to monitor progress," the leader added, saying it will report at the end of May.