Coronavirus: Continuing issues with protective kit for NHS, says minister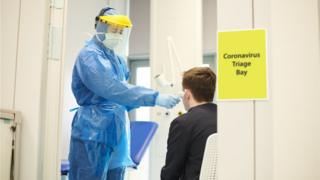 There will be "continuing issues" around the supply of personal protective equipment (PPE) for medical staff, Wales' health minister has said.
Vaughan Gething announced more PPE was being distributed for front line staff dealing with the coronavirus crisis.
Equipment from the pandemic stockpile has been released to hospitals, GPs, social care and pharmacies, he said.
A body representing doctors said some were buying DIY store goggles because their eye masks were so inadequate.
On Tuesday the first minister Mark Drakeford said there was enough equipment for everyone in the health service who needs it.
The next day, his colleague Mr Gething told a Welsh Government news conference that the "re-supply timeframe in respect of some of our PPE is uncertain".
"We must, therefore, use the stock we have efficiently and appropriately until resupplies become more certain," he said.
The health minister said: "We also do need to ensure that the access to this PPE stock is reserved for the use of our frontline healthcare staff and that those staff have the appropriate infection control guidance to provide the personal protection that provides the fundamental basis for the use of PPE."
Mr Gething said voluntary bodies who are helping the NHS or social services in caring for suspected or confirmed Covid-19 should be able to access the appropriate PPE by making contact with the NHS or local authority organisation they are supporting.
The British Medical Association (BMA), which represents doctors, urged Welsh ministers to find a reliable way to "substantially increase the production and distribution of PPE, as well as ensuring what is being provided is appropriate".
Dr David Bailey, who chairs the BMA's Welsh council, said it had heard from GPs who felt "they are putting themselves at risk because the eye masks which have been delivered to surgeries are completely inadequate and do not cover their eyes appropriately".
"Some are opting to wear goggles bought from DIY stores they already had at home," he said. "This is unacceptable."
"At a time when we need our NHS more than ever, staff must be properly protected and should not be exposing themselves to high-risk situations where they could become infected."
The health minister said he was seeking to increase the number of ventilators in the Welsh NHS "all the time".
Mr Gething said there were 700 "physically available" and potentially around 1,000 being acquired soon.
Ventilators are seen as a vital part of the fight against coronavirus.
The machines get oxygen into the lungs and remove carbon dioxide from the body when people are too sick to breathe on their own.
"We have over 700 physically available to the national health service in Wales," Mr Gething said.
"There are just under 300 already on order.
"We also think there are another 700 we will get in the near-ish future through the UK-wide arrangements that are being made."
Mr Gething also told journalists pharmacies should not charge patients to deliver prescription medicines to them during the coronavirus crisis.
The Boots chain has been criticised after reports it is charging £5 for delivery of some medicines.
Vaughan Gething said people who should be staying at home could be forced to go out because of such charges.
He urged the firm to "revisit its decision". Boots has been asked to respond to the criticism.
Mr Gething said he expected community pharmacies in Wales not to charge for deliveries.
"Vulnerable groups who we've advised to stay at home for at least the next three months should not then feel forced to leave their home because they can't afford a delivery charge," he said.
He said he would be happy to contact Boots on the issue.
Boots said it has waived delivery charges for patients over 70 and those with underlying health conditions who have been asked to self-isolate.
"We have seen a significant demand for our services including our home delivery services, so we are prioritising delivery slots from our stores for these two groups of people to help ensure they can receive the medicines they need at home, at no charge," a spokesperson said.
"Our pharmacists also have the discretion to waive charges in an emergency and if there is no other way for a patient to get their medicines."