Coronavirus: Wales' stay home advice 'has not changed'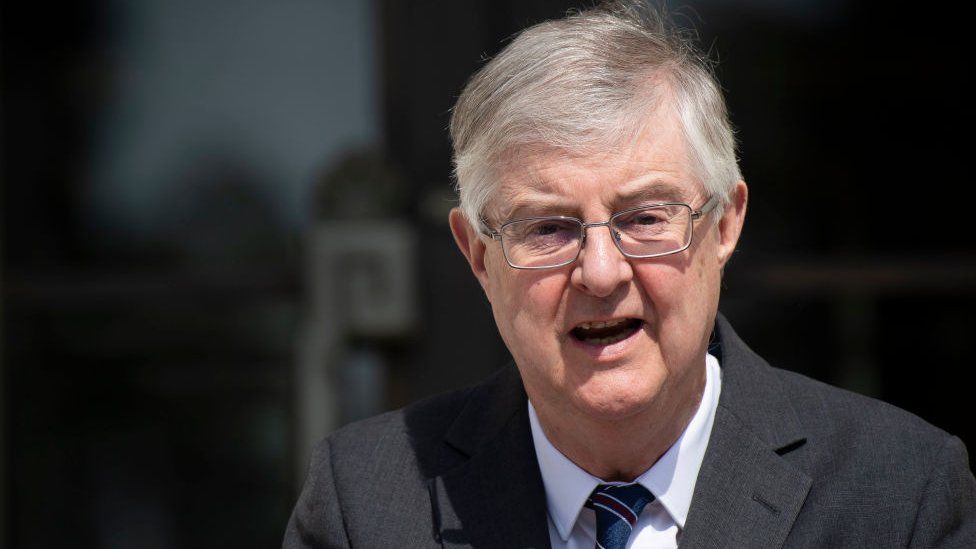 The stay-at-home message in Wales has not changed, the First Minister Mark Drakeford has said.
His comments come in response to Prime Minister Boris Johnson's plans to allow people in England to spend more time outdoors - alongside a new message to "stay alert".
They include allowing people to drive to other destinations and sit in parks - none of which will apply in Wales.
Mr Drakeford said people in Wales should stay home "wherever you can".
Another member of the Welsh Government, Jeremy Miles, said exercise must be local to home and people could face fines if they drove into Wales for leisure.
The new message "stay alert, control the virus, save lives" has been rejected by ministers in Wales and Scotland.
In his speech Mr Johnson also unveiled a "conditional plan" to reopen society, with dates for when schools would reopen, as well as allowing people in England to spend more time outdoors from Wednesday.
But in a video statement Mr Drakeford said: "Our advice has not changed in Wales.
"Wherever you can you should stay at home.
"If you need to leave home for work, exercise or shopping, you should stay local and stay alert."
"If you go out, stay local and stay safe."
The first minister added: "The health of the public is paramount. It will inform our decisions and we will continue to inform you as we plan for our future in the weeks ahead."
What did the prime minister announce for England?
From Wednesday, people in England can take "unlimited exercise", including sitting in your local park or driving to destinations for exercise
Schools in England could begin to return on 1 June, with primary schools opening first, but that date is the "earliest" it could happen
In England, parts of the hospitality industry and more shops could open from July, dependent on the data
Mr Johnson says he "will not hesitate to put on the brakes" if there are further outbreaks of the virus
People who could not work from home should return to the workplace - but avoid public transport.
Mr Miles, the Welsh Government's counsel general who has been put in charge of its coronavirus recovery plan, also said Welsh regulations already permit people to work away from home if it is safe.
The Prime Minister has set out his changes to the lockdown rules in England.

I set out the position for Wales on Friday.

Our message remains the same - Staying at home is the best way to protect yourself and others. pic.twitter.com/qi8DKEQsRq

— Mark Drakeford (@fmwales) May 10, 2020
The counsel general said the prime minister's statement was "aimed at people in England" and that people in Wales were still being asked to stay home.
He told BBC Wales the position was "rather different in Wales".
He said it was not the case that people could drive to other destinations in Wales.
"Our regulations do not permit people to get in their cars and drive to destinations in Wales, and that includes people getting in their cars in England," he said.
Plaid Cymru leader Adam Price said Boris Johnson had made a "reckless move".
Speaking to BBC Wales, Mr Price said it was "effectively the end of the four nation approach - we now have a three nation approach from Wales, Scotland and Northern Ireland with a simple, clear stay at home message. England has signalled a move away from that".
"The stay alert message is confusing. It's the wrong decision for England but it also sends a mixed message and makes our work here harder".
Analysis by BBC Wales political correspondent James Williams
It wasn't clear from the prime minister's broadcast, but aside from the imposition of quarantine "on people coming into this country by air" the rest of the lockdown changes he announced will only apply in England.
But, of course, Boris Johnson is the prime minister for the whole of the United Kingdom so his speech is obviously for a wider audience.
Ultimately, on the big ticket changes the prime minister has decided to keep England pretty much aligned with Wales, Scotland and Northern Ireland - for now, at least.
But differences in messaging, slogans, and changes around the margins could potentially cause problems for Welsh ministers.
Having heard the prime minister's address, is everyone in Bristol who fancies driving to the Brecon Beacons going to know that the rules are different in Wales?
A Welsh Government source said "people need clear communications" and they may now end up "wasting time" clarifying the different regulations on either side of the border.
Earlier on Sunday the announcement of the new "stay alert" slogan was met with dismay by Welsh Government ministers.
Health Minister Vaughan Gething said on Twitter: "There has not been a four-nations agreement or discussion on this."
But the UK government's Communities Secretary Robert Jenrick said it was the right time to "update and broaden" the message to the public from "stay at home" to "stay alert".
"Stay alert will mean stay alert by staying home as much as possible, but stay alert when you do go out by maintaining social distancing, washing your hands, respecting others in the workplace and the other settings that you'll go to," he said.
'Best answer to move in same direction'
Mr Johnson also set out a "road map" for measures to exit lockdown on Sunday evening.
Speaking earlier on BBC One's Politics Wales programme, Mark Drakeford said "the best answer is that we move in the same direction across the whole United Kingdom".
Asked whether he would produce his own plans, he said "it may be that the timings of exact measures will be different".
Plaid Cymru and other Westminster opposition parties took part in a phone call with the prime minister on Sunday afternoon, where concerns were raised with Boris Johnson directly over the stay alert message.
Liz Saville Roberts, Westminster Plaid leader, told BBC Wales: "I'm very concerned that that term stay alert is just not as clear in anyone's mind as the message of stay home."
Mr Drakeford said the Welsh Government would use the latest three-week lockdown extension to look at the possibility of opening more public services.
Potential options for discussion include resuming some postponed NHS procedures and use of public transport.
He said talks about when and how to reopen schools would also continue but repeated that there will be no change at the start of June.
Changes would made in a "careful and cautious way", he said.
The rate of transmission of the coronavirus - the so-called "R number" - will be the biggest factor in the Welsh Government determining when the lockdown will be eased, with ministers wanting to keep R below one.
It was announced on Friday the R number stands at around 0.8 in Wales.
Asked where it needed to be before further lockdown restrictions would be eased, Mr Drakeford said: "If we can hold that headroom [between R being 0.8 and 1] and increase it a bit further then there may be more things we can do.
"But it's a matter of doing things, testing their impact in the community and then making decisions based on the best evidence you have at the time.
"Lockdown can't go on forever both because it has other health impacts of its own... and, of course, lockdown does have an effect on the economy."