Coronavirus: Wearing of face masks up to Welsh schools and councils to decide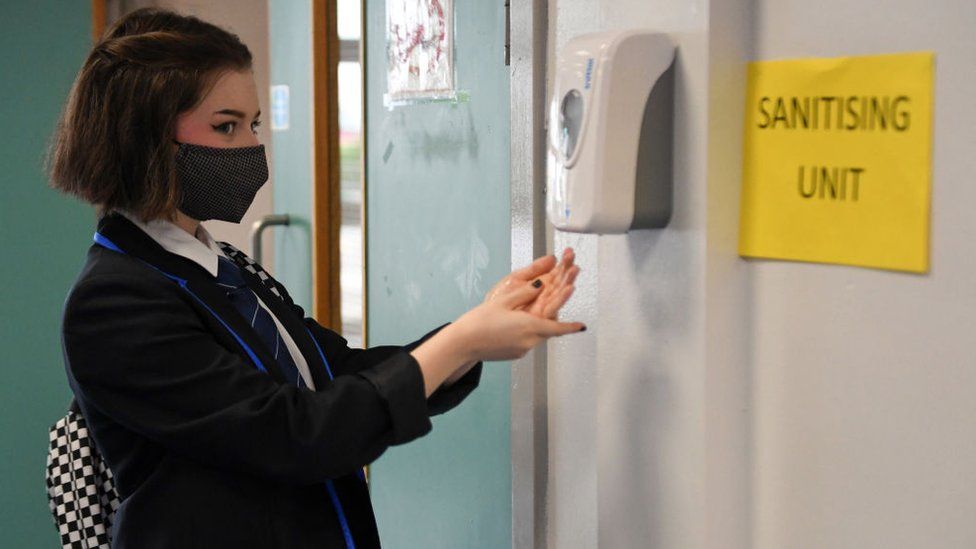 It will be up to schools and councils to decide if face coverings are used in Welsh schools.
Masks are now recommended for children aged 11 and up in communal areas indoors where social distancing is difficult, and on school buses.
But Wednesday's Welsh Government announcement did not make their use compulsory.
Opposition parties and some education unions accused ministers of passing the responsibility to schools.
That was denied by Health Minister Vaughan Gething, who said a "one-size-fits-all approach" would not work in Wales.
Risk assessments will need to be done to decide if schools or colleges need to ask pupils to wear face coverings.
They will be required in secondary school corridors in parts of England under local lockdown, after a U-turn.
First Minister Mark Drakeford told a Senedd meeting there was a "part to be played" for face masks in secondary schools in areas that see rising coronavirus cases, and where buildings do not allow pupils to move around safely.
In a joint statement issued later by Mr Gething and Education Minister Kirsty Williams, the pair said guidance was being changed to require schools, colleges and councils "to undertake risk assessments of their estates to determine if face coverings should be recommended for their staff and young people in communal areas".
"This will also include school and college transport."
It said that Chief Medical Officer Frank Atherton had recommended face coverings "for all members of the public over 11 years in indoor settings in which social distancing cannot be maintained, including schools and school transport".
It said face-to-face teaching without coverings can continue with social distancing.
Teaching union NAHT Cymru said it was "unacceptable that school leaders are expected to shoulder the responsibility of deciding if face coverings are required in schools".
"Headteachers are not medical experts and the Welsh Government should not put them in this position," the union's director Laura Doel said.
University and Colleges Union policy officer Jamie Insole also claimed ministers were passing the buck: "College students are older than school pupils and ministers cannot simply try and pass on guidance for schools to colleges."
But David Evans, Wales Secretary of the National Education Union Cymru, welcomed the statement.
"To us the statement is clear - in areas where social distancing can't be maintained, face masks need to be worn by everyone over 11 years, including in schools and on school transport," he added.
Joseph Carter, head of Asthma UK & British Lung Foundation Wales, said Wales was "out of step with the rest of the UK".
"Without a clear unified position, this will only lead to confusion and uncertainty for teachers, parents, and pupils," he said.
The Welsh Government has always taken a different approach to mandating face coverings from their counterparts in the rest of the UK, and that pattern continues here.
It's not clear whether leaving it to school leaders to make the decision according to the physical layout of each school will reassure parents or disturb them.
With schools returning next week we'll soon find out.
But different rules in different schools seems to be exactly what Labour in England doesn't like about the approach that Boris Johnson's government has taken there.
What is the response from the opposition?
Delyth Jewell, Plaid Cymru spokeswoman for the transformation of public services, said "This is the latest example of the Welsh Government passing the buck rather than leading the way.
"It's not good enough that ministers aren't setting national policy."
Welsh Conservative education spokeswoman Suzy Davies said the Welsh Government announcement "is the worst of both worlds, putting the responsibility on the shoulders of schools and councils, while trying to absolve itself of responsibility for the decision".
The way the Welsh Government publicised the decision - following the end of a day's virtual Senedd and not directly to Senedd politicians - was also criticised by the Welsh Conservatives.
What did the health minister say?
Vaughan Gething said a mandatory approach would not be appropriate in Wales while there were low levels of coronavirus in the country.
He denied that the Welsh Government was putting the responsibility for masks on headteachers.
Speaking to the BBC News Channel, he said a "one-size-fits-all approach" would not take into account differences between schools built in the last decade - which have bigger corridors - to those that are older.
He added: "In Wales, we continue to have very low transmission rates, that's why it's not appropriate for us to mandate a one-size-fits-all policy requiring face masks in every single school."
Mr Gething said there could be localised outbreaks that affect one school community but not others.
The health minister agreed that schools had a "shorter period of time than any of our schools would want" to consider the risk assessments.
"The World Health Organisation provided their revised advice guidance within the last few days so the Welsh Government hasn't had a lot of time to consider this issue in further detail," he said.