Covid: Wales to ban people coming from UK hotspots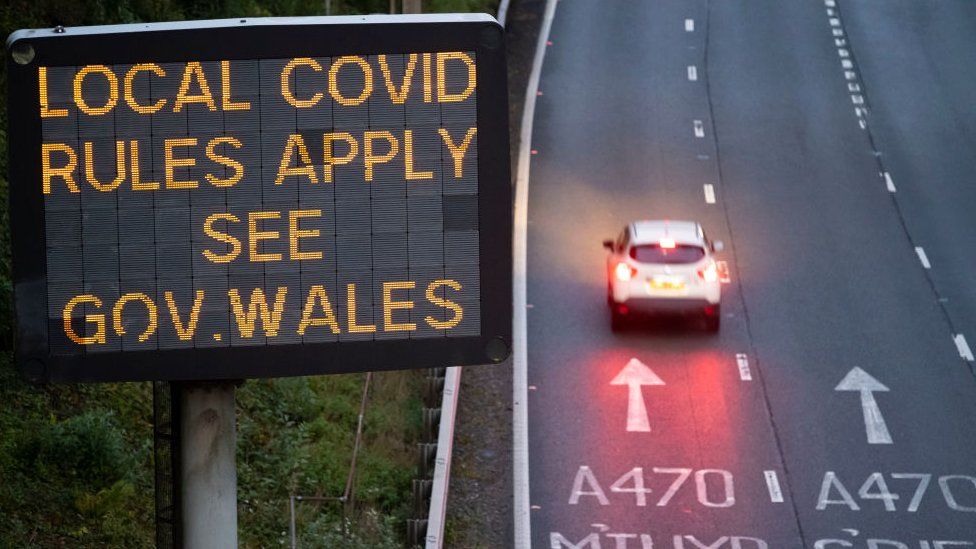 People in parts of the UK with high rates of Covid-19 will be banned from travelling to Wales under plans announced by Wales' first minister.
Mark Drakeford said he would go ahead if the prime minister did not impose travel restrictions in England.
It is expected the ban will cover all of Northern Ireland, England's tier two and three areas and the Scottish central belt.
The UK government said the decision was "disappointing".
And the head of the Police Federation in Wales warned the rules could be "unenforceable".
"There will also be plenty of individuals travelling legitimately from areas which are not high risk, and this will only add to the other difficulties officers face when policing the existing regulations," Mark Bleasdale said.
Scotland's First Minister Nicola Sturgeon said she fully supported Mr Drakeford's move.
She said she would write to the prime minister seeking urgent talks over UK-wide travel restrictions and called for a "sensible agreement" between the four nations.
Mr Drakeford had written twice in recent weeks to Boris Johnson asking for travel to be restricted in and out of areas with high levels of transmission in England.
UK government ministers plan to write to Mr Drakeford to raise their concerns about the travel ban and some of the language being used, BBC Wales has been told.
Mr Drakeford said: "Evidence from public health professionals suggests coronavirus is moving from east to west across the UK and across Wales.
"As a general rule, it is concentrating in urban areas and then spreading to more sparsely populated areas as a result of people travelling."
Mr Drakeford said the law will be "essentially designed to prevent people going to those holiday parts of Wales, the far west and the far southwest of Wales, where the virus is still in very low circulation".
The rules are planned to come into force on Friday at 18:00 BST.
The BBC is not responsible for the content of external sites.
Skip twitter post by Nicola Sturgeon
Allow Twitter content?
This article contains content provided by Twitter. We ask for your permission before anything is loaded, as they may be using cookies and other technologies. You may want to read Twitter's cookie policy, external and privacy policy, external before accepting. To view this content choose 'accept and continue'.
The BBC is not responsible for the content of external sites.
End of twitter post by Nicola Sturgeon
Travel to and from the 17 local lockdown areas in Wales - covering most of the population - is already restricted.
People can already only travel to places like Cardiff or Swansea if they have a reasonable excuse like work or education.
But travel is possible between areas that are subject to restrictions in England and the parts of Wales not under lockdown rules, such as Powys and Pembrokeshire.
The Welsh Government's plans would effectively restrict travel to those places, and also cover anyone from a low-Covid area of Wales travelling to high-Covid areas elsewhere who then return to Wales.
Similar exemptions will apply to those that exist for Welsh local lockdown areas.
Enforcement details are not been confirmed but it is likely breaking the law could attract a fixed penalty notice, or a fine if it goes to court.
A Welsh Government source stressed fines would be a last resort.
People 'anxious and on the lookout'
The first minister said it was "absolutely possible" to enforce the ban, telling Times Radio "we did exactly this for many many weeks earlier this year".
He warned anyone planning to "evade" a police officer "trying to prevent people from travelling onwards".
"When they arrive in the far west of Wales, I'm afraid they will meet a local population that are fearful, that are anxious and are on the lookout for people who shouldn't be in those areas.
"So your difficulties aren't over by evading the police, there'll be other checks in the system."
The remarks were criticised by former Welsh Secretary Stephen Crabb, who said he was "wrong to whip up anti-visitor (English) sentiment".
The BBC is not responsible for the content of external sites.
Skip twitter post 2 by Stephen Crabb
Allow Twitter content?
This article contains content provided by Twitter. We ask for your permission before anything is loaded, as they may be using cookies and other technologies. You may want to read Twitter's cookie policy, external and privacy policy, external before accepting. To view this content choose 'accept and continue'.
The BBC is not responsible for the content of external sites.
End of twitter post 2 by Stephen Crabb
The Welsh Government says it will not impose these restrictions until 18:00 on Friday night, to give the prime minister another chance to intervene.
The odds of him doing so seem slender, given the hat-trick of refusals he has already supplied.
The delay also gives ministers a chance to untangle what is a more complex issue than is apparent at first sight.
What has the UK government said?
"It is clear that this virus does not respect geography and any new local spikes need all levels of government to work together.
"We've been working closely with the devolved administrations to support communities and businesses and it is disappointing that they have chosen to act unilaterally rather than collaborating with other parts of the UK.
"It is important that people follow their devolved administration's local guidance.
"From the outset, our guidance has also been very clear that people from very high prevalence areas should avoid travelling in or out of that area."
'More time for the prime minister'
Mr Drakeford told the Welsh Parliament that he had written to Boris Johnson again.
"That gives more time for the prime minister, the UK government, to do the things that we have asked him to do, to do the same thing for people who live in England as we have done for people who live in Wales.
"We've already heard from the first minister in Scotland, and she is eager to support what we're trying to do here.
"Now is the time for the prime minister to do the same thing.
"If he isn't willing to do so then the timetable is for us to use the powers in Wales by the end of the week."
'We are getting phone call after phone call'
In Builth Wells, Powys, an area of Wales not subject to lockdown rules, hotel staff said they were confused about what the rules meant.
Kimberley Ghalwash, manager of the Caer Beris Manor Hotel, said it had been inundated with calls from people in England since talk of a travel ban was raised in recent weeks.
"I'm getting phone call after phone call, 'can we come, are you still open?'," she said.
"Do we put a block on those people and protect our own, or do we allow them to come and take extra precautions?
"It's a really weird limbo phase we are in at the moment."
Andrew Campbell from the Wales Tourism Alliance said people in parts of England without high levels of Covid could still come to Wales.
"There isn't a ban for the tier one people in England - if you look at the map there are huge swathes of people who can come to unrestricted areas and they are going to be most welcome, and everyone is welcome," he said.
Conservatives demand evidence
Welsh Conservative Senedd leader Paul Davies accused the first minister of acting rashly "and without examining a range of other factors before a conclusion on whether to impose a travel ban or not is reached".
"It is incumbent on the first minister to explain just why he has chosen to act in this way, and what supporting evidence he and his ministers have seen to justify a ban and then publish it so it can be properly scrutinised".
The announcement was "long overdue", according to Plaid Cymru's Adam Price: "I'm pleased to see the Welsh Government finally taking this necessary course of action to protect the people of Wales."
"We now need a clear timetable for exactly when the draft legislation will be ready to publish, the proposed timescales and plans for implementation and how this is to be communicated across the UK."
Health Minister Vaughan Gething told BBC Wales the risk "goes in both directions" and everyone was being asked to behave responsibly, "Welsh citizens as well".
"We've already seen infection events in Gwynedd from travel to Liverpool so we know it's a risk", he said.
He said the Welsh Government would publish guidance on what would be considered a "good reason" for travel into lockdown areas from across the border.
But he said: "Coming to Wales on holiday isn't going to be a reasonable excuse."
"Actually the great majority of people in Wales understand why we are doing this and support it, and I think people across the UK will understand this is only about protecting people, rather than picking a fight about borders and nations."