Covid: Cwm Taf Morgannwg reports 99 deaths linked to outbreaks
There have been another 30 deaths linked to Covid-19 infections caught inside four hospitals, bringing the total to 99, Cwm Taf Morgannwg health board has reported.
Fifty-one of those deaths occurred at the Royal Glamorgan Hospital.
Managers said the virus was stubborn and "very challenging", especially when some patients being treated for other conditions did not show symptoms.
There are now 469 cases linked to outbreaks across the area.
Deaths are associated with the virus, not necessarily directly caused by Covid-19.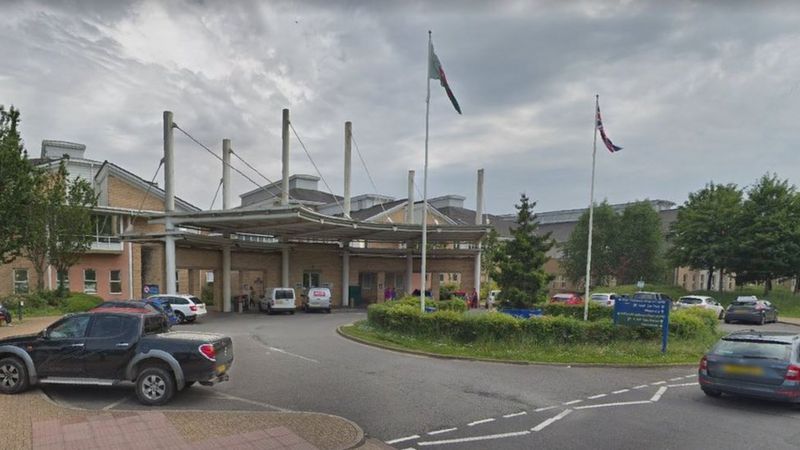 Google
Covid-19 hospital infections
Deaths reported up to 3 November
51Royal Glamorgan Hospital, Llantrisant

20Prince Charles Hospital, Merthyr Tydfil

22Princess of Wales Hospital, Bridgend

6Maesteg Hospital
Source: Cwm Taf Morgannwg health board
The health board has now reported:
Six deaths at Maesteg hospital for the first time, where there are 24 cases linked to an outbreak
Royal Glamorgan Hospital has 186 cases, with deaths rising by four to 51
The number of deaths at the Princess of Wales in Bridgend has doubled in a week to 22. There are 137 cases linked to an outbreak of Covid-19 there
Prince Charles Hospital in Merthyr has seen a further nine deaths, linked to 96 cases. There have been 20 deaths there now
There are a further 26 cases at Ysbyty Cwm Rhondda, but no details of deaths have been released
Dr Nick Lyons, Cwm Taf Morgannwg medical director, said it was very challenging, especially when some patients could be using hospitals without knowing they had the virus.
"The virus is stubbornly in the community and is so it's stubbornly coming in and out of our hospitals," he said.
"Patients are coming into hospital with coronavirus and other patients are coming into hospital with other conditions but also having asymptomatic Covid, which we're recognising through our testing."
He said it was about trying to keep patients with Covid apart from those being treated for strokes, cancer and heart attacks.
Earlier, Dr Andrew Goodall, the NHS Wales boss, said there were nearly 200 cases of hospital-acquired coronavirus in the past week in Wales.
They amounted to one in 40 of the total confirmed cases, he told a media briefing.
There are 1,275 Covid-related patients in hospital, only 9% lower than the April peak.
But Dr Goodall said that even in that area, hospital-acquired cases only accounted for 3% of the total.
Opposition parties have previously called for an inquiry into hospital acquired infections in the health board.
"I want to be clear, this is not as simple as a failure of hand-washing or poor infection control procedures," he told a Welsh Government press conference.
"This virus is highly infectious and it can be passed on in the asymptomatic, pre-symptomatic and symptomatic phases of the infection.
"It is incredibly difficult to prevent its spread in busy healthcare environments, especially with around 90 people with Covid currently admitted each day."
Welsh Conservative health spokesman Andrew RT Davies told BBC Wales Today: "Hospital-acquired infection is a real concern.
"Because regrettably and tragically that feeds through into higher instances of death within hospital settings, and we've seen that in the Cwm Taf area in particular."
Plaid Cymru health spokesman Rhun ap Iorwerth said: "If we were ever in doubt about the severe strain Wales' health service is under as a result of the pandemic, today is another wake-up call.
"People must have confidence that government is doing all it can to urgently provide 'Green' Covid-free, or 'Covid-light' sites for diagnosis and treatment.
Dr Goodall said the "normal critical care capacity" of 152 beds was full, mainly with people who do not have coronavirus
"We currently have 163 people in critical care at the moment," he said, with plans to expand if required.
There are currently 57 people being treated in critical care for coronavirus, which is 12% higher than last week.
But he said that with his experience of the first wave he would have expected more Covid patients to be in critical care.
"At the moment we are at about 60% lower than the peak that we saw in April," he said.
"With a high level of testing that is going on across Wales at the moment, it does mean that we're identifying people with coronavirus earlier."
He suggested that oxygen therapies were "seeming to be a more effective way" of treating people than with ventilators.
'Could be significant increases in deaths'
Dr Goodall said: "There could well be very significant increases in both hospital admissions and deaths right through the whole winter period."
He also stressed the Welsh Government's national firebreak measures were in line with "needing to do something very different from a society and a community perspective, to protect the NHS".
The firebreak lockdown runs until 9 November and requires everyone to stay at home with exceptions for work, buying essentials and education.
But Dr Goodall added the NHS in Wales had not reached the point where it needed to cancel non-Covid health care.
He warned that if the numbers continued to rise, "then inevitably there is a point where we have to focus on safety and emergency response".
"I don't feel that we have reached that point yet," he said.