Covid vaccines: Over-80s target missed by Welsh Government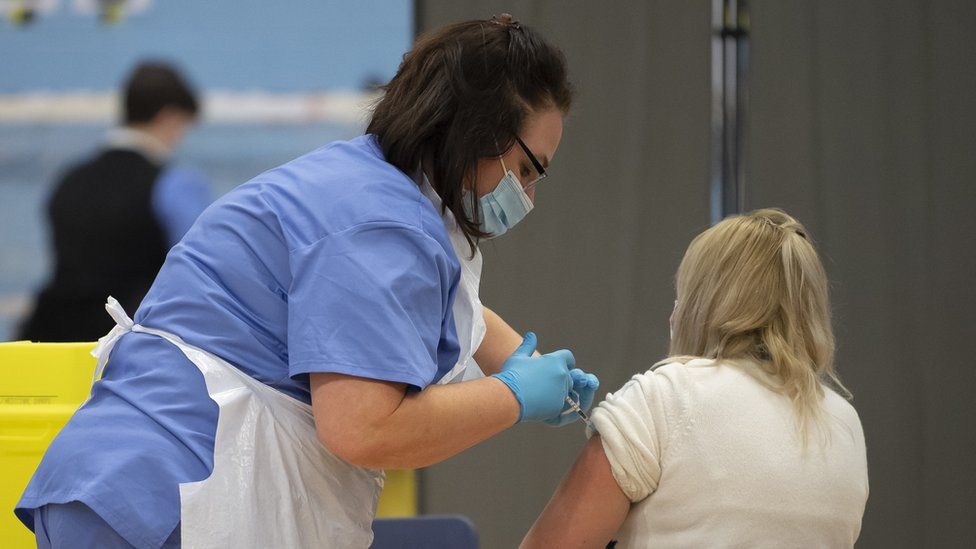 A pledge that 70% of the over-80s would get the Covid-19 vaccine by last weekend was missed, the Welsh Government has admitted.
Weather has been blamed for the problem with figures showing 96,830, or 52.8%, had their first dose.
First Minister Mark Drakeford said many over-80s felt unsafe attending appointments amid the snow and ice.
Welsh Conservative Senedd leader Andrew RT Davies accused the government of constantly missing targets.
The pledge had been made by Health Minister Vaughan Gething in the Senedd, last week.
But earlier, Mr Gething said that as well as missed appointments, five mass vaccination centres were affected by the conditions and "a range of additional GP clinics didn't go ahead".
Latest data shows almost 97,000 of the most vulnerable have had a dose - but there is a lag and it can take up to five days for doses injected to be included in the figures. At least 289,566 people have had a first dose - 9.2% of the population.
That compares to 10.6% in England, 8.6% in Northern Ireland and 8% in Scotland.
Mr Drakeford told First Minister's Questions earlier: "We will not reach the 70% for over-80s because of the interruption to the programme of vaccination that happened on Sunday and on Monday morning.
"I won't have people over-80 feeling pressurised to come out to be vaccinated when they themselves decide that it is not safe for them to do so."
He said all of those people would have been offered a further opportunity to be vaccinated by the end of Wednesday.
However, Mr Drakeford said Wales was on track to meet plans to offer everybody in the top four priority groups (those aged 70 or over) a vaccination by mid-February.
Around 23,700 first doses a day would need to be given for the first four priority groups to be have a vaccine offered by 14 February.
On the latest seven day rolling average, it would take 25 days.
But Mr Davies said: "Welsh Conservatives would have been the first to congratulate the Welsh Government and its health minister had the target been reached on Friday, but that target has been missed.
"It's the same old Labour story of taking credit when things go well but look to blame anyone and everything else when it goes wrong."
In the Senedd, he accused the government of running a "postcode lottery" for vaccinations, which Mr Drakeford denied.
The first minister said figures had gone from 162,000 people being vaccinated last week to 230,000 this Tuesday.
He said that was "the fastest rate of increase in any part of the United Kingdom", and accused Mr Davies of wanting to "run it down".
"He leads a Conservative party in Wales, which has reverted to its 19th Century type - for Wales, see England."
Plaid Cymru's Rhun ap Iorwerth said he did not think "blaming snow over the weekend holds water".
"Snow did cause problems in certain areas but the problem was that you were still on 24% of over-80s in the middle of last week. There was too high a mountain to climb," he added.
But Mr Gething said the weather was an "obvious factor" on both Sunday and Monday.
In a statement, he said more than 11,000 care home residents - 67% of the priority group - had received their first vaccine dose.
Over 65% of Welsh Ambulance Service staff had also taken up the offer of a vaccine.
"We have seen a significant escalation in the pace of vaccine deployment here in Wales over the last couple of weeks," he told Members of the Senedd (MSs).