Free school meals: Families who don't qualify 'struggling', review told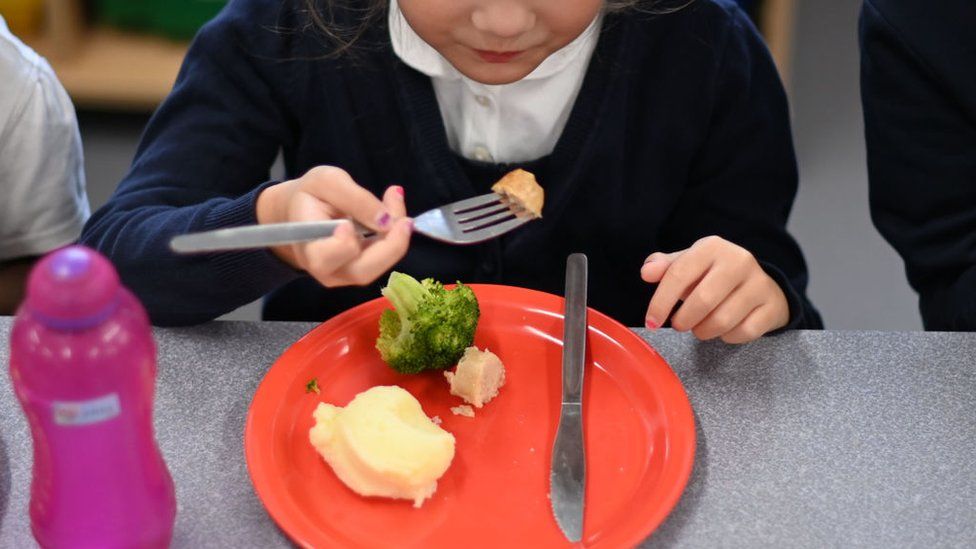 All families on Universal Credit should qualify for free school meals, a Welsh Government review has been told.
The Child Poverty Review heard evidence "some households in Wales who don't qualify for free school meals" are "struggling to feed their families".
The unpublished review was expected in March last year.
However, the Welsh Government has said the report "no longer fully reflected" the situation due to the Covid-19 pandemic.
Plaid Cymru leader Adam Price has called for every family receiving Universal Credit and equivalent benefits to be eligible for free school meals.
More than 70,000 of the 129,000 school-age children in Wales living below the UK poverty line do not qualify for free school meals, according to analysis by the Children Poverty Action Group, published last October.
The summary findings of the Child Poverty Review, released under a Freedom of Information (FOI) request, stated that "a large number of respondents believed the Welsh Government should do more to reduce the costs of education for families".
"The most common suggestion was the need to expand eligibility for free school meals to a wider range of children and young people," the report stated.
Expanded eligibility, the report noted, could include:
children in families where parents/carers are in low paid work/on Universal Credit
asylum seekers/undocumented children without recourse to public funds
16 to 18-year-olds attending further education college
all primary aged children up to the age of seven (as is the case in England and Scotland)
or as a minimum children in the Foundation Phase
The review also noted concerns regarding the "limited availability and take-up of free school meals, meaning many of those in need are not eligible or accessing this help".
Asked about the review by Mr Price, during Tuesday's First Minister's Questions, Mark Drakeford challenged Plaid Cymru on the affordability of providing free school meals to all children from families receiving Universal Credit.
Mr Drakeford said the Welsh Government had "doubled, and doubled again, the number of times during a young person's school career that a child can draw down, what used to be called the school uniform grant, which now of course is able to be used for a far wider range of purposes".
The Child Poverty Review was announced by Housing and Local Government Minister Julie James, in December 2019, aiming to "seek to identify those policies and programmes that are working well, as well as those areas where we should be doing more".
The expectation at the time was that the final report would be ready by March 2020.
But, in response to the FOI request, the Welsh Government said "the decision not to publish the findings of the Child Poverty Review was taken because it was felt that, given the impact of the pandemic, they no longer fully reflected the social and economic landscape, nor did they fully inform the response that would be needed to address the impact of the Coronavirus crisis on child poverty".
'Direct response' to review comments
In the Senedd on Tuesday, Mr Drakeford said: "In November of last year we published our child poverty Income Maximisation Action Plan - it was part of that plan that led us to invest an additional £52m in free school meals in the current financial year to ensure the continued provision of free school meals during school holidays here in Wales."
"It's a very direct response to the comments that were collected during the review."
Adam Price called on the Welsh Government to publish the full review and extend access to free school meals "to any child in any family receiving universal credit or equivalent benefit".
He said: "Any compassionate government should be ensuring that no child goes to school hungry or to bed cold.
"Yet over 70,000 children living below the UK poverty line in Wales are not currently eligible for free school meals.
"To right this wrong, a Plaid Cymru government will make sure that none of these children go hungry."
'Inconsistent patchwork of provision'
Later, the Child Poverty Action Group called on ministers to "urgently review the eligibility criteria for free school meals, to ensure every child on universal credit can get them and all learners in the Foundation Phase get a free midday meal, as they do elsewhere in Britain".
It said in a statement that "Welsh Government schemes intended to help people make ends meet can be complex to navigate, and people often don't know which way to turn for help".
"While allowing local authorities to administer schemes like free school meals and support for uniform costs has worked in some areas, it creates an inconsistent patchwork of provision across the country."