A-level and GCSE pupils to get provisional grades in June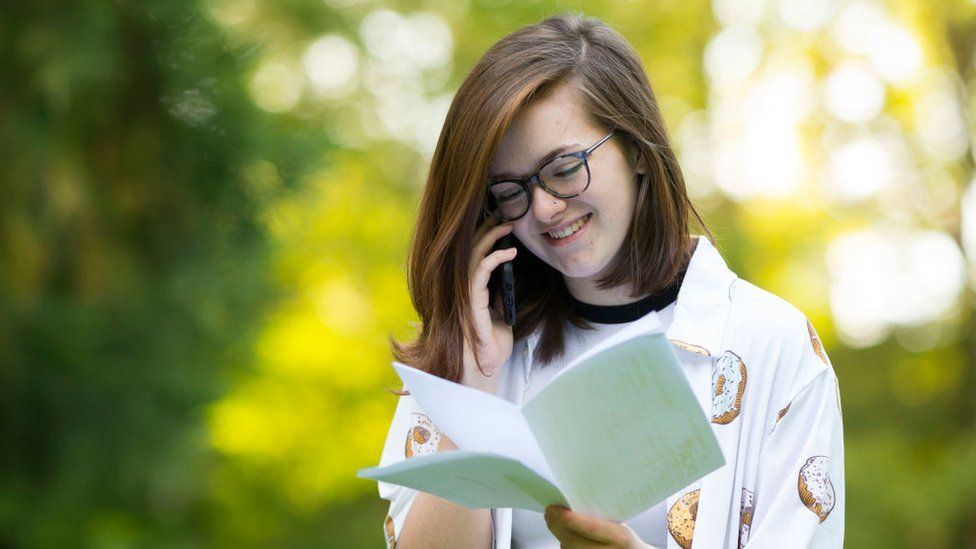 A-level and GCSE pupils in Wales will be told provisional grades by teachers in June, ahead of official results days in August.
Qualifications Wales said it meant pupils could appeal to the school or college before final results were confirmed.
Results days will be earlier than usual - A-levels and AS-levels on 10 August and GCSEs on 12 August.
Exams regulator Qualification Wales said in its latest guidance on how A-levels, AS-levels and GCSEs will be assessed, that there would be a three-stage appeals process, beginning with the release of provisional grades in June.
Exam board the Welsh Joint Education Committee (WJEC) will not change the grades once they have been submitted by schools or colleges, but they can approach them about "atypical" grading.
A second stage, after official results are published, would be an appeal to the exam board if candidates feel the grades given by their school or college are unreasonable or a procedural error has been made.
The final stage of appeal is to the watchdog, Qualifications Wales.
But Gareth Evans, director of education policy at the University of Wales Trinity St David's, said it was "another very, very late decision, another change" and that "there are going to be number of very frustrated and disappointed teachers".
He told BBC Radio Wales Breakfast: "I think this is a way of building in another safety net to give pupils that opportunity to challenge and to probe the rationale behind the awarding of their grades.
"That doesn't however excuse the fact this announcement has been made in March when I think decisions could have been taken in the autumn if not earlier."
Philip Blaker, chief executive of Qualifications Wales, said they had been working with the WJEC exam board and the Design and Delivery Advisory group of schools and college leaders to come up with an effective appeals process.
"As with all the decisions being taken for this summer, there are no easy answers," Mr Blaker said.
"We are committed to putting the needs of the learner at the heart of our work."
The guidance also covers arrangements for private candidates, who are not registered at a particular school or college, including home-educated children and some students who are resitting.
Schools and colleges across Wales will be identified as hubs for some private candidates to take assessments which will be graded by the exam board.
Wales' Education Minister Kirsty Williams announced summer exams were cancelled in November, and a system of assessments was put in place instead.
However they also had to be scrapped when schools and colleges were closed in January, and it was decided that teachers and lecturers would determine their students' grades.
Summer 2020 grades were eventually based on teachers' grades after uproar about the "downgrading" of results as a result of a standardisation process.