Covid: Cardiff Airport valued at £15m due to pandemic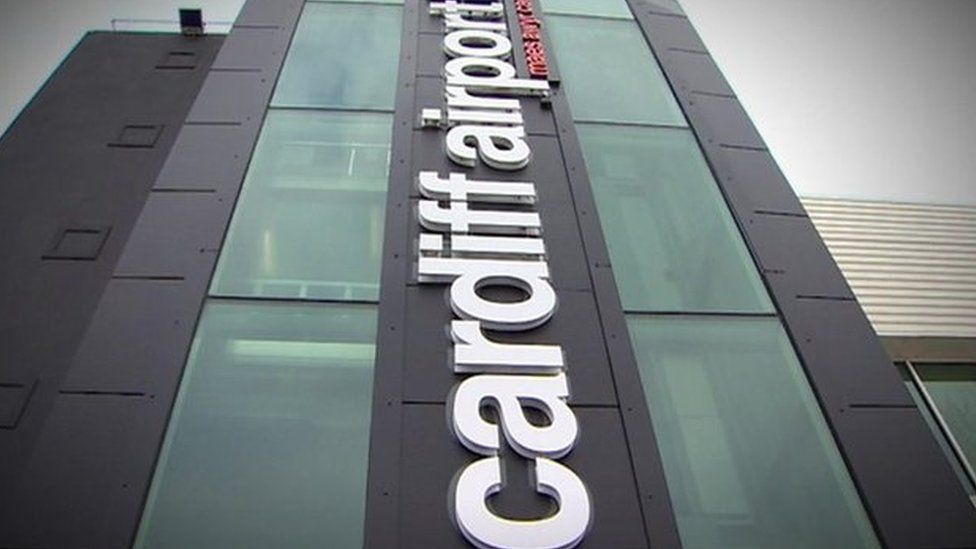 A Welsh government valuation of Cardiff Airport estimates it could now be worth less than a third of the £52m ministers bought it for in 2013.
The Senedd's Economy Committee was told that the £15m valuation was a "worst case scenario" due to the pandemic.
Last week the Welsh government provided the airport with a £42.6m grant, and wrote off a similar value of debt.
The Welsh Conservatives have called for "swift action" to save it from further losses.
Appearing before the committee, Economy Deputy Minister Lee Waters said that "all public transport has faced enormous challenges during the pandemic through no fault of their own - passengers have stayed away".
"So the Welsh government has stepped in to save businesses right across the public transport ecosystem," he said.
But the deputy minister said that last week a £42.6m grant had been given to the airport and "a similar level of debt written off".
"We didn't do this lightly, we've been in ongoing dialogue with the airport, which continues to operate on a commercial basis, and we have a system of checks and balances in place to make sure that support we do offer is done on that arrangement," he told the committee.
"If we didn't take action the airport would have gone bust, it would have closed. We know there are roughly 2,400 aviation related jobs that would have been directly impacted by that and in total over 5,000 indirect jobs, supported by the airport.
"That would have been a loss to the taxpayer of £115m."
The current "rescue and restructure" is a five year plan, which Mr Waters said was so that "initial taxpayer funding we put in place is safeguarded".
Welsh government Economic Infrastructure Director Simon Jones told the committee that the airport's "equity value" was £15m, but that this valuation was "at the bottom end of the range of likely values, were the airport to be liquidated".
The senior official said the valuation was a "worst case scenario" which he said was a "prudent way of dealing with this issue given the current situation with Covid".
"The rescue and recovery plan allows for the value of that equity to increase in the future," he said.
Conservative Senedd member for Clwyd West Darren Millar said that the "decision to nationalise Cardiff Airport has placed an albatross around the neck of Welsh taxpayers and without swift action tens of millions more will be lost".
"Labour ministers promised that its purchase of Cardiff Airport would be a good investment, yet more than seven years on and hundreds of millions of taxpayers' funding later and the airport is worth just a fraction of its original purchase price," he said.
"The failure of the Welsh government to publish information to justify its latest bail out for the airport is scandalous.
"Ministers cannot hide behind commercial confidentiality when it comes to taxpayer support in the form of a £42.6m grant and £42.6m in debt being written off."