Covid in Wales: More face-to-face university teaching after Easter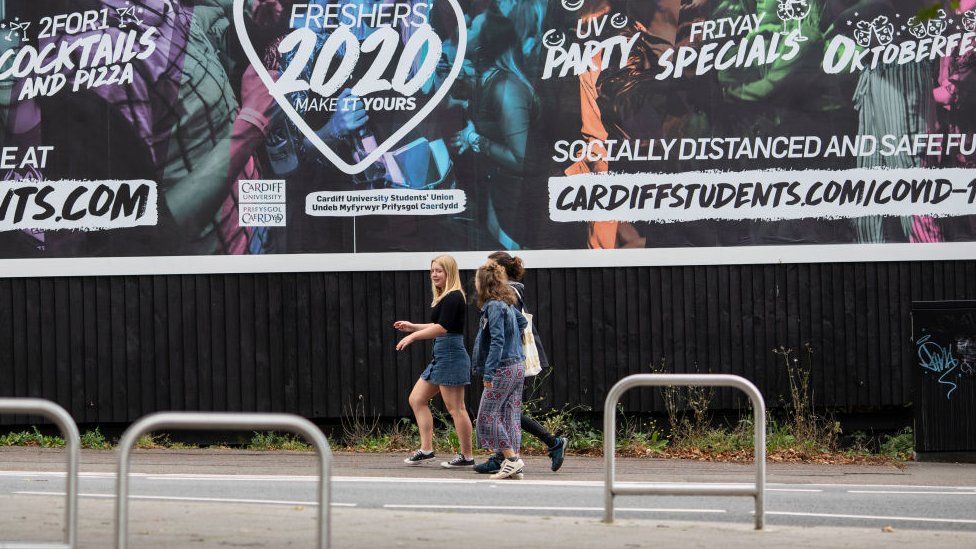 Universities can offer more face-to-face teaching for students after the Easter break, the Welsh Government has said.
Education Minister Kirsty Williams told a press conference that students could resume a mix of campus and learning from home from 12 April.
Covid rules require people to "stay local", but they do allow travel for education.
Lateral flow tests will be available twice a week for those going to campus.
Ms Williams told students: "I know your university experience this year has been very different from your expectations and you've missed out on many of the social aspects of university life."
However, by doing so they had reduced the risk of catching and spreading the virus which would "certainly have saved lives", she added.
Universities Wales, which represents the sector, said they looked forward to welcoming students back.
Students have been able to use on-campus facilities such as libraries, study spaces, studios or labs.
Deputy Chief Medical Officer Dr Chris Jones told a press conference there had not been "significant transmission" in the teaching and learning environment in universities.
"There appears to be little evidence of community transmission from student populations in Wales and that data indicates low case rates in the student population in Wales," he said.
Ms Williams said that twice-weekly lateral flow tests - which produce a result within 30 minutes - would be available for all students and staff who could not work from home.
"From the 12 April, it is our expectation that all students can return for blended learning for the duration of the summer term," she said.
"Universities have planned for more teaching and learning to continue in the summer term than in a normal academic cycle."
Universities Wales welcomed the statement, saying: 'Many students have already returned to campus, where this is required for completion or to meet learning outcomes, or for access to facilities.
"We look forward to welcoming the rest of our students back to our communities after Easter.
"The safety and wellbeing of students, staff and local communities remains the top priority for universities in Wales, and those returning after Easter can be confident that our campuses remain Covid-secure environments."
The decision to stop most in-person teaching in Wales led to an outcry over tuition fees and rent earlier in the year.
Universities had offered rebates to those affected, but some students claimed they were not being treated fairly or getting enough support. The Welsh Government offered £40m to students who were struggling.
Plaid Cymru leader Adam Price said the evidence presented by the deputy chief medical officer and the success of the vaccine roll-out pointed toward a return to university teaching being safe.
Andrew RT Davies, leader of the Conservatives in the Senedd, said all secondary school pupils should also return before 12 April.
Those in years 7-9 are able to get 'check-in' sessions with teachers before that date, but Mr Davies said: "It's important that pupils start their education rather than have simple check-in sessions."
In England universities could resume in-person teaching for students on practical courses from 8 March.
Earlier this month the UK government said it would review options for the timing of the return of students by the end of the Easter holidays.