Sarah Everard: Hundreds at Cardiff protest after death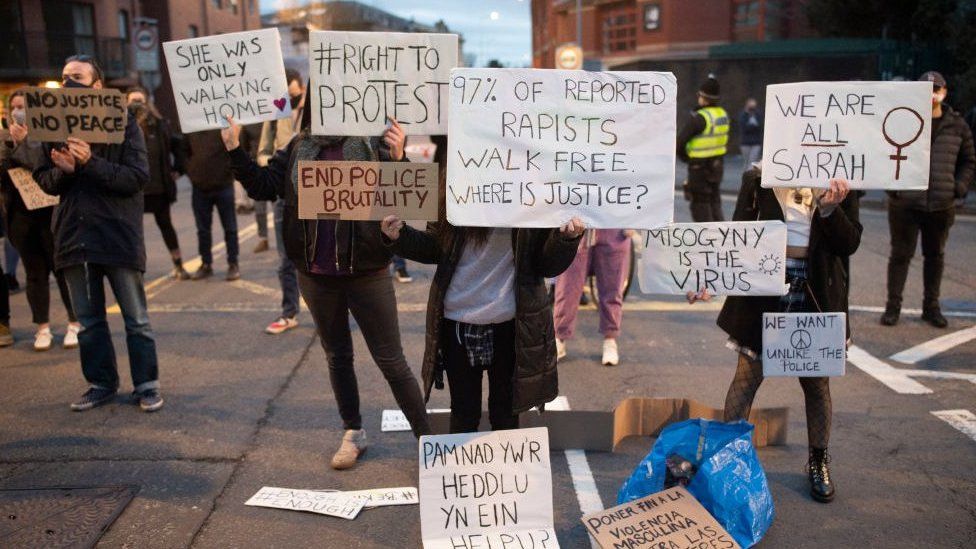 Hundreds of people have attended a protest outside a Cardiff police station following the death of Sarah Everard.
The 33-year-old went missing while walking home from a friend's house on 3 March in south London.
Her remains were later found in a woodland in Kent and a Metropolitan Police officer has been charged with her murder and kidnap.
Demonstrators in Cardiff on Monday were also campaigning on other issues.
Banners supporting different causes were on show in the crowd and chants of "Whose Streets? Our Streets" and "Black Lives Matter" could be heard.
Earlier, Wales's first minister said no-one could be "anything but disturbed" by scenes of policing at a vigil in London in memory of Sarah Everard.
Mark Drakeford said it was "particularly" the case because of the "allegation that a member of the Metropolitan Police had carried out a murder of somebody".
The Met has faced widespread criticism for its handling of the gathering.
However, the head of the force has defended how officers responded.
Hundreds of people gathered on London's Clapham Common on Saturday to lay flowers and pay their respects to Ms Everard, who was found dead a week after she disappeared on her way home in south London.
Police officers later handcuffed and removed a number of women from the gathering, arresting four people for public order and Covid offences.
In response to the scenes in London, Mr Drakeford said there was a "contrast" to the way events were handled in Wales.
"Here in Wales I think our police have always managed to respond to such events in a way that is sensitive to them, proportionate to what is going on, and allows people even in the extraordinary times we are in to mark something very significant in their lives," he said.
"In London, nobody could be anything but disturbed to see the scenes we've seen emerging, particularly as the precipitating event is the allegation that a member of the Metropolitan Police had carried out a murder of somebody.
"To see the same police force respond to people who wanted to mark that in a way, that I think can only give rise for very real concern."
Ms Everard went missing while walking home from a friend's house on 3 March, with her body being found a week later in Kent.
Met Police officer Wayne Couzens, 48, has been charged with kidnap and murder.
Met Commissioner Dame Cressida Dick has said she will not resign over the protests.
"Quite rightly, as far as I can see, my team felt that this is now an unlawful gathering which poses a considerable risk to people's health," she said.
"I don't think anybody who was not in the operation can actually pass a detailed comment on the rightness and wrongness... This is fiendishly difficult policing."
"This is not the moment at all for the UK government to be seeking to cut back on people's ability to get together when conditions allow and express their concerns about the way that things happen in our society," he said.
Opposition MPs, including Labour and Plaid Cymru, plan to vote against the bill. It has been defended by Prime Minister Boris Johnson, who said it was a "very sensible package of measures".
In common with the other three UK nations, coronavirus laws set in Wales by the Welsh Government restrict large gatherings.
No more than four people from two households can gather outside.
His death prompted several days of protest. Ms Ali is understood to be contesting the fine.
In response to a question on the Welsh Government views' about protests under the regulations, and whether they can be lawfully held, a spokesperson told BBC Wales: "We are in the middle of public health emergency.
"For everyone wishing to hold peaceful vigils, we would ask people to follow the rules which have protected us all from coronavirus and consider holding online events until larger gatherings can be held."