Covid in Wales: Hold inquiry after pandemic, Mark Drakeford says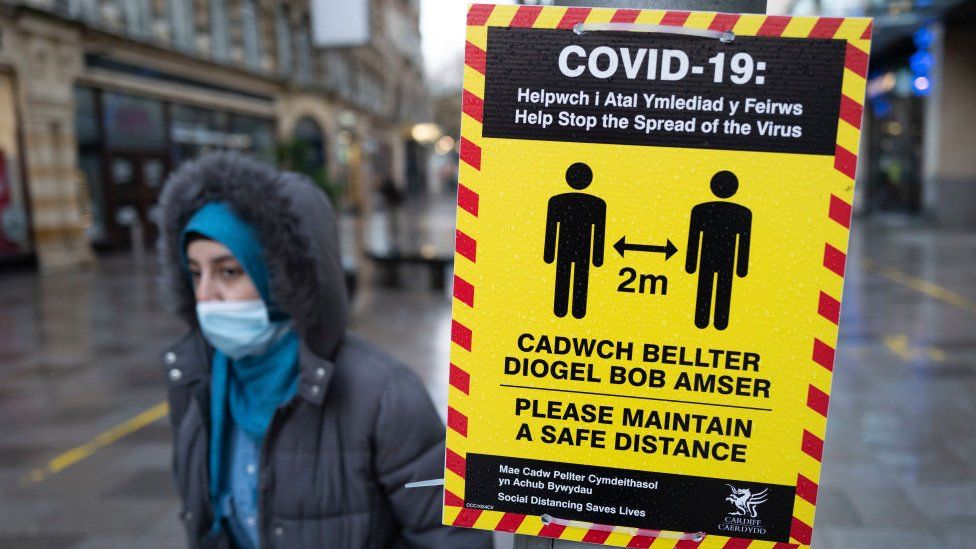 A public inquiry into the Welsh government's handling of Covid-19 needs to be held when the "pandemic is behind us", the first minister has said.
Mark Drakeford said the outbreak did not have to be "all over" before an investigation was held.
But he said ministers needed to be "confident that we are emerging from it unambiguously".
The Conservatives said they would hold an inquiry as soon as possible if in power after May's Senedd election.
Plaid Cymru said a Wales-specific inquiry "must begin while memories are fresh".
The exact locations of the two sites will be announced in the coming weeks, with one in the north and one in the south.
But the latest Office for National Statistics (ONS) figures show Covid was mentioned on 7,592 death certificates up to 26 February.
The ONS data gives a bigger picture and includes deaths where Covid is confirmed or suspected by doctors and covers deaths in all settings, including care homes, hospices and people's homes.
An assessment of the number of deaths from all causes compared with what we would normally expect to see shows there were 5,447 deaths more than the five-year average.
When looking at death rates in local areas, Wales has four areas in the worst 20 across England and Wales - Rhondda Cynon Taf, Bridgend, Merthyr Tydfil, and Neath Port Talbot.
The first minister said Covid-19 would "leave a mark that will last for many years".
He said that was because of the thousands of families who have lost somebody during the pandemic, but also because of the way it would "change the way we think about our own futures, about the way we work, about the precautions we take when global events of this sort can have such a profound impact on us locally".
Last June, Welsh ministers agreed an independent inquiry should be held into their handling of the coronavirus pandemic.
But the government said it should be part of a probe into the response to the crisis across the UK.
Ministers did not commit to a timetable for an investigation despite opposition parties' calls at the time for the inquiry to report before May's Senedd election.
Asked when an inquiry might be held, Mark Drakeford said: "It needs to be at the point when we can be confident that the pandemic is behind us.
"I don't mean necessarily all over, but we are confident that we are emerging from it unambiguously.
"And then it needs to be an inquiry that is not simply Welsh because so much of what has happened to us in Wales has been linked to the wider UK picture.
"So, it needs to be at a time when we can draw all those threads together and then it will be absolutely right that we look back and learn the lessons of what has taken place," he added.
The Welsh Conservatives have said there should be inquiries "at both a UK and a Wales level", with the party committing to one in Wales after the election if they are in power.
Raising the issue at First Minister's Questions in the Senedd, Tory group leader Andrew RT Davies said: "I want to see a public inquiry as soon as possible make progress and, rather than lose it in a wider UK public inquiry, have a Wales-specific public inquiry."
In reply, Mr Drakeford said he felt a Wales-only inquiry "would not be able to grapple with a long list of issues that will be fundamental to being able to draw the lessons from what has happened".
He said a UK-wide public inquiry "will, absolutely properly, look at the decision making of the Welsh Government as well."
Plaid Cymru leader Adam Price said: "No-one can say when this pandemic will be behind us, so Wales must not be kept waiting to learn the lessons of the last year.
"In those 12 months we saw a failure to ensure universal testing of care home residents, failure to provide adequate PPE for health and care staff, and a failure to utilise Welsh testing capacity when it was most needed."