Welsh elections: Labour criticised over claim it's saving puppies' lives
By David Deans
BBC News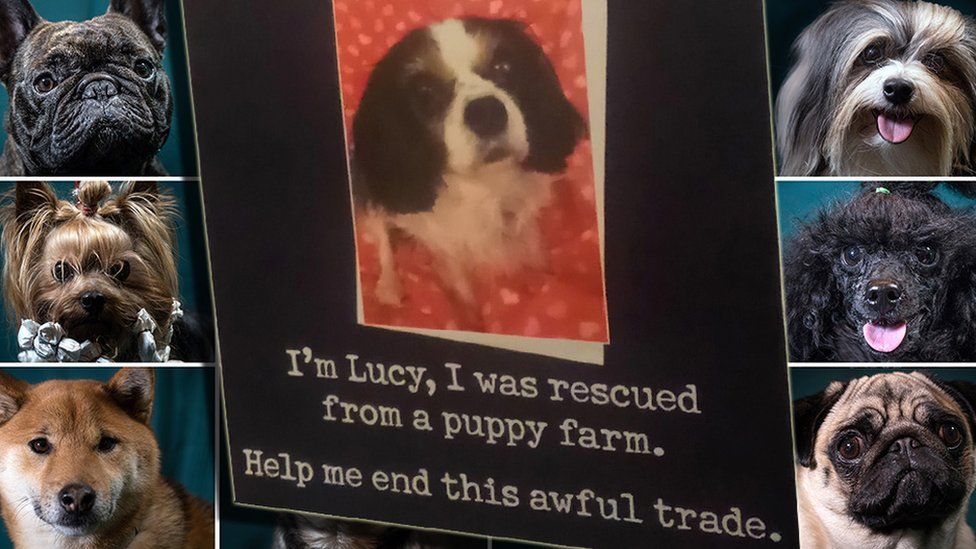 Labour should be embarrassed by a Facebook post saying the Welsh government is saving the lives of dogs and cats, the Conservatives say.
Welsh Labour made the claim after the Senedd approved a ban on third party puppy and kitten sales on Tuesday.
The ban comes into force on 10 September, more than a year after one was imposed in England.
The Conservatives said it could have been introduced years ago. Welsh Labour said they were talking Wales down.
Plaid Cymru welcomed the "long overdue" regulations.
Following the Senedd decision, Welsh Labour made a Facebook post showing a dog and a kitten, which read: "Your Welsh government is saving their lives".
Campaigners had complained about how long the regulations - dubbed Lucy's Law - were taking to come into effect.
They want the regulations in a bid to stop so-called puppy farms from operating in poor conditions.
The new regulations require the seller to have bred a puppy or kitten "at the premises".
A spokesman for the Welsh Conservatives said: "Lucy's Law could've been introduced by Labour years ago but, as with everything they do in the Senedd, they dithered and delayed.
"Sadly, this has led to more suffering for animals and given Wales the awful reputation as the puppy-farm capital of the UK.
"They should be ashamed and embarrassed to even make such a desperate claim."
But Welsh Labour argued the ban was "moving Wales forward in animal welfare".
"The changes go further to build on Lucy's Law, and we're pleased to have delivered them in this Senedd term, despite the huge pressures created by Covid," a spokesman said.
"The Tories could be more positive but their instinctive reflex is to talk Wales - and action to protect puppies and kittens - down."
Abolish the Assembly Party's Mark Reckless said: "Wales has for too long been a centre for puppy farming. If it wasn't for devolution and the assembly we would have benefitted from action by Westminster a year ago.
"But, while we all await our say on 6th May, better late than never."
Plaid Cymru's Llyr Gruffydd added: "Plaid Cymru has consistently called for an end to third party sales which places profit above animal welfare.
"We therefore support these long overdue regulations."We now need guarantees from the government that the important work of rehoming and rescue centres won't be undermined by these new rules and that the enforcement of these new regulations will be properly resourced."