Covid inquiry should be UK-wide, says Welsh secretary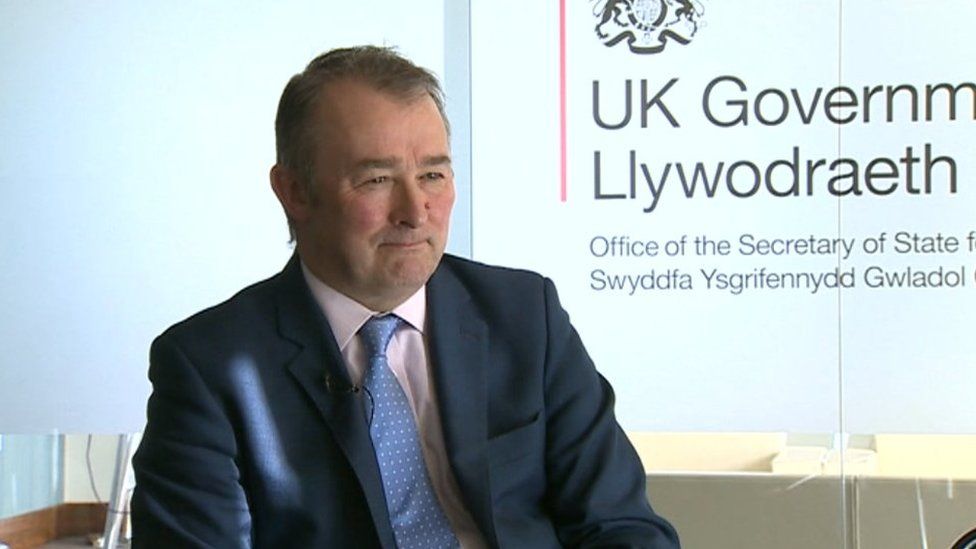 A public inquiry into the handling of the Covid pandemic should be "a UK-wide analysis" with the ability to examine devolved governments' decision making, Welsh secretary Simon Hart has said.
In contrast Tory Senedd group leader Andrew RT Davies wants a Wales specific inquiry in addition to a UK one.
Mr Davies accused Labour First Minister Mark Drakeford of "running away from responsibility" on the matter.
Last week, Mr Drakeford said a public inquiry "needs to be at the point when we can be confident that the pandemic is behind us".
"And then it needs to be an inquiry that is not simply Welsh, because so much of what has happened to us in Wales has been linked to the wider UK picture."
But he said a UK wide-inquiry "will, absolutely properly, look at the decision making of the Welsh government as well."
Responding to those comments, Mr Davies said: "I'm clear there should be a UK-wide inquiry and a Wales-specific inquiry. Welsh Conservatives would implement one after May's election so we can learn vital lessons moving forward, help save lives, and protect livelihoods.
"You have to wonder just what the Labour Party is running away from. I can sum it up in a word: responsibility."
But when he was asked for his views on the matter on Wednesday, the Welsh secretary said: "My inclination is that Covid has posed a UK-wide problem and therefore our objective analysis of it should be UK-wide."
"But I hope within that there will be some ability to look at the different approaches the individual devolved administrations have taken."
Mr Hart also said he hoped the future inquiry would "see the truth emerge" about the "colossal" levels of collaboration between UK and Welsh governments during the pandemic.
On the timing of an inquiry Mr Hart said although he wanted "to get going on this because it will take a long time" the inquiry could not take place before ministers are "comfortable that there are no more surprises up the Covid sleeve."
The Welsh Conservatives said Mr Hart was "correct in his assessment of the importance and requirement for a UK-wide inquiry".
But their spokesman added: "However, the first minister and his Labour colleagues have been against taking a united, four-nation approach to Covid, and there are many decisions that have been taken in Cardiff Bay that should be viewed through a sole Welsh lens of accountability.
"Welsh Conservatives in the Senedd believe it's imperative that there is also a Welsh-specific inquiry so future Welsh governments will be in the best possible state of preparedness for any future pandemic, and we will implement one after May's election."
Where do other parties stand on an inquiry?
Last week, Plaid Cymru leader Adam Price called for a Wales specific public inquiry to begin after the Senedd election.
"No-one can say when this pandemic will be behind us, so Wales must not be kept waiting to learn the lessons of the last year," he said.
Welsh Liberal Democrats' leader Jane Dodds said "there should be an independent UK-wide public inquiry which looks at every aspect of this pandemic".
"The Senedd's health and economy committees will undoubtedly look at the specific Welsh lockdown regulations, the work of the NHS here and the support offered to business."